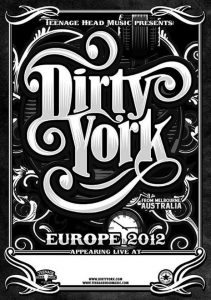 La espera de los Dirty York en el Azkena Rock Festival 2011, fue un absoluto acierto.
Rock sureño, Humple Pie-Stonianos, fresco y añejado, otro de los grandes triunfadores de aquella edición.
Dirty York inspiró en parte, junto al álbum de The Rolling Stones, y Dirty Song, la canción de David Bowie, el nombre de este sitio web, Dirty Rock, cuando los vimos en el Azkena 2011.
Después de volar Vitoria literalmente la pasada edición del Azkena Rock Festival 2011, los australianos se embarcan en su primera gira europea y española, 33 ciudades europeas, 13 españolas dispuestas a recibir auténtico Rock and Roll de alto octanaje con muchas trazas sureñas.
En el Azkena Rock Festival de 2011, consiguieron sacar valioso partido de un setlist con canciones enlazadas sin descanso y dejando al respetable completamente noqueado. "Spin the miracle dice", "Deep Water", "Foolish Side", "Cos I Miss you", "No apologies" y "All my friends look like Jesus", fueron alguna de esas muescas en el cargador de la banda. Emotiva hora y media de unos australianos que le dieron una vuelta más a la música americana más profunda, sonando a Blues y Rock del pantano, brutales y ambientales al mismo tiempo.
Dirty York en el Azkena Rock Festival 2011. Fotos Carlos Pérez Báez
En esta gira española y europea están presentando nuevos temas de lo que será su próximo trabajo, del que desconocemos su título. Dirty York tienen editados dos fantásticos álbumes «Waiting on St. George» del 2009 y «Say Goodbye to Diamonds» del 2010.
En Vitoria se ofrecieron al diablo. Su cantante y el guitarra principal entraron en trance, desnudaron sus almas y las entregaron a un público que, extasiado por los sonidos más oscuros, se entregaron a la ceremonia. Los componentes de los australianos Dirty York son: Benny James, Shaun Brown,  Luke Teys, Justin Rudge, Brett Wolfie Lucas Szpakolski.
No dudes en leer lo que sucedió con Dirty York en la 10ª Edición del Azkena Rock Festival del 2011, junto con otros grandes nombres.
DirtyYork en el Azkena Rock Festival 2011,  selección de sus mejores vídeos en el festival.
Las fechas para su gira española son:
03/4/2012  Mardi Gras, A Coruña
04/4/2012 Taberna Belfast,  Santa Maria del Paramo
05/4/2012  La Ley Seca,   Zaragoza
06/4/2012 Azkena, Bilbao
07/4/2012 Sala Acapulco, Gijón
08/4/2012  Salason Vigo (Cangas), Vigo
09/4/2012 Los Picos,  Lierganes
10/4/2012 La Boîte,  Madrid
11/4/2012 Supersonic,  Cadiz
12/4/2012 Texola,  Elda
13/4/2012 Durango, Valencia
14/4/2012 Razz 3,  Barcelona
15/4/2012 Zona Rock,  Monzon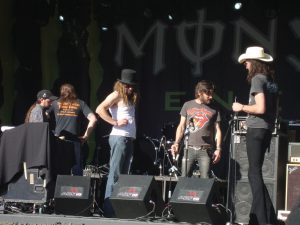 Foto de Carlos Pérez Báez
Dirty York is shaping as a huge year for 2012 . After releasing their 2nd album «Say Goodbye To Diamonds» in 2011, they received considerable interest in Europe, which led to an offer to play the world famous Azkena Rock Festival in Spain in June 2011, alongside Ozzy Osbourne, Queens of The Stone Age and many more.
After such a fantastic reaction from the crowd and promoters alike, the band have linked with Teenagehead Music based out of Belgium, and booked a run of 33 shows across Europe, taking in France, Germany, Netherlands, Spain, Austria, Switzerland and the Czech Republic.
The band are also booked to play the longest running live music TV show in the world, Rockpalast, in Bonn, Germany.
Dirty York European Tour 2012
23/3/2012 Beauvais – France @ Festival Blues autour du Zinc
24/3/2012 Bonn – Germany @ Harmonie (Rockpalast show)
28/3/2012 Alencon – France @ La Luciole
29/3/2012 Verviers – Belgium @ Spirit of 66
30/3/2012 Eindhoven – Holland @ The Rambler
31/3/2012 Sneek – Holland @ Het Bolwerk
03/4/2012 A Coruña – Spain @ Mardi Gras
04/4/2012 Santa Maria del Paramo – Spain @ Taberna Belfast
05/4/2012 Zaragoza – Spain @ La Ley Seca
06/4/2012 Bilbao – Spain @ Azkena
07/4/2012 Gijon – Spain @ Monkey Club
08/4/2012 Vigo (Cangas) – Spain @ Salason
09/4/2012 Lierganes – Spain @ Los Picos
10/4/2012 Madrid – Spain @ La Boîte
11/4/2012 Cadiz – Spain @ Supersonic
12/4/2012 Elda – Spain @ Texola
13/4/2012 Valencia – Spain @ Durango
14/4/2012 Barcelona – Spain @ Razz 3
15/4/2012 Monzon – Spain @ Zona Rock
16/4/2012 Toulouse – France @ Bar des Tilleuls
17/4/2012 Cognac – France @ West-Rock
18/4/2012 Ensisheim – France @ Caf'Conc
19/4/2012 Innsbruck – Austria @ Harly's Bar
20/4/2012 Uster – Switzerland @ Rock City
21/4/2012 Besançon – France @ La Rodia
25/4/2012 Kufstein – Austria @ Qwest
26/4/2012 Prague – Czech Republic @ Exit US
27/4/2012 Berlin – Germany @ Wild at Heart
28/4/2012 Lauchhammer – Germany @ Real Music Club
29/4/2012 Nederweert – Holland @ WupsPub
30/4/2012 Arnstadt – Germany @ Rockkneipe Jungfer
3/05/2012 Isernhagen – Germany @ Blues Garage
4/05/2012 Weikersheim – Germany @ Club W71
5/05/2012 Singwitz – Germany @ Kesselhaus
More dates to be announced soon.