Jim Marshall, "The Father of Loud", creador de los amplificadores Marshall para guitarras eléctricas, electroacústicas y pedales, entre otros productos, y fundador de la empresa inglesa Marshall Amplification acaba de fallecer hoy 5 de abril de 2012 a la edad de 88 años, a causa de una grave y larga enfermedad. No confundirlo con el grandioso y legendario fotógrafo de rock Jim Marshall.
Nacido en Londres en 1923, y miembro de la Orden del Imperio Británico (Order of The British Empire), creó su primer amplificador durante la segunda guerra mundial mientras trabajaba en una tienda de música.
Batería en una orquesta durante aquellos años y gran aficionado al jazz, y siendo su ídolo el gran Gene Krupa, sin duda el mejor en nuestra opinión, durante 1950 comenzó a dar clases de batería a genios como Mitch Mitchell, (batería de Little Richard) y Mick Underwood (Deep Purple) para poder abrir un nuevo negocio de instrumentos y amplificadores, el cual había creado unos años atrás, del que eran clientes habituales grandes guitarristas como Pete Townshend (The Who).
De ellos saldría su idea creada años antes, Jim Marshall incorpora a su tienda a un joven estudiante de electrónica llamado Dudley Craven que había trabajado para la discográfica EMI. A partir de ese momento, en 1962, comienzan a fabricar y producir amplificadores Marshall, constituyendo Marshall Amplification y su sonido, "The Marshall sound", ese sonido profundo, crudo y potente, poseedor del "Frequency Dependent Camping" y con tres líneas de amplificadores bien definidas, la MG para el principiante, la AVT para el intermedio y la JCM2000 para el profesional.
El primer amplificador Marshall de 100 vatios se creó expresamente para The Who y Small Faces. Doblando su tamaño y potencia, la alineación en el escenario se hacía horizontalmente, por lo que muchas bandas y artistas se dieron cuenta que era un problema por su peso y disposición, así que Marshall lo modificó e inició el diseño de los mismos de manera vertical.
La nueva idea consistía en apilar amplificadores de forma vertical, a partir de ahí sería una norma para cada banda o artista, comenzando por Cream y pasando por Led Zeppelin, T-Rex o The Jimi Hendrix Experience.
(Dentro de la fábrica Marshall en Denbigh Road Bletchley, Milton Keynes, Buckinghamshire MK1 1DQ en Inglaterra).
Los JMP "Plexis" de finales de los 60's y a los JMP "Master Volumen", JCM800 2203-2204 como los "sonidos genuinamente Marshall".
Estos antiguos amplificadores empezaron a utilizar las válvulas europeas en la etapa de potencia (la KT66 entre el 64 y el 65, y la EL34 a partir del año 65), que se encontraban con más facilidad y resultaban más económicas.
La válvula rectificadora se eliminó y en su lugar se montaron diodos rectificadores. Los transformadores de alimentación y de salida se diseñaron en base a la válvula KT66 y de esta forma el sonido de los Marshalls se alejó definitivamente del sonido de los amplificadores Fender que utilizaron como modelo.
Este cambio de las válvulas 6L6 a las KT66/EL34 transformó la tonalidad del amplificador hacia el sonido característico de los Marshall que todos conocemos (con más garra y distorsión).
En la actualidad muchos guitarristas comentan que los nuevos amplificadores no suenan como los viejos, creemos que el sonido es una cosa muy personal ¿Quién puede decir lo que está bien y lo que está mal?
Todo se resume en que el músico se sienta cómodo con su sonido.
Este 2012, Marshall cumplía 50 años en el mundo de la música.
Jim Marshall, the founder of Marshall Amplification, has died aged 88.
Jim's ascent into the history books as 'the Father of Loud' and the man responsible for "the Sound of Rock" is a true rags-to-riches tale. Cruelly robbed of his youth by tubercular bones, Jim rose to become one of the four forefathers responsible for creating the tools that allowed rock guitar as we know and love it today to be born. The ground breaking quartet also included the late, great trio of Leo Fender, Les Paul and Seth Lover, together with Jim, they truly are the cornerstones of all things rock.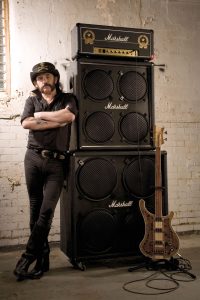 In addition to the creation of the amps chosen by countless guitar heroes and game changing bands, Jim was also an incredibly humble and generous man who, over the past several decades, has quietly donated many millions of pounds to worthy causes.
While the entire Marshall Amplification family mourns Jim's passing and will miss him tremendously, we all feel richer for having known him and are happy in the knowledge that he is now in a much better place which has just got a whole lot louder!
Rest in Peace & thank you Jim.
Your memory, the music and joy your amps have brought to countless millions for the past five decades; and that world-famous, omnipresent script logo that proudly bears your name will always live on.