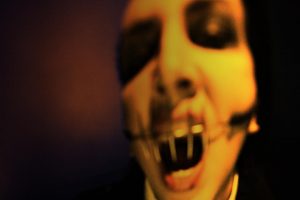 «Triturando, aplastando, engañando y cambiando,
estoy sordo o muerto, algo violento se aproxima,»
Marilyn Manson el anticristo superstar, vuelve más Joker,villano y con un absoluto rock más desbocado y desbordado que nunca, con su nuevo vídeo "No Reflection" (No lucubro), disponible desde el pasado miércoles 4 de abril, de su próximo ábum de estudio «Born Villain».
El nuevo vídeo "No Reflection", no tiene desperdicio alguno, llega a salpicarte de tanto vómito y sangre en tu cara. La deflagración de imágenes están dirigidas por Lukas Ettlin, de origen suizo, director de fotografía, anuncios comerciales y vídeos musicales, de cierto prestigio en Estados Unidos (vídeos musicales para el propio Manson, Usher o Queens of Stone Age; anuncios para Ford o cerveza Coors; películas comoBuried Alive in the Blues, Invasión a la tierra o La Matanza de Tejas: el origen)

Brian Hugh Warner, rendía diezmo a su dos fetiches, la actriz Marilyn Monroe y el criminal y reencarnado en Jesucristo, Charles Manson.
Con su nuevo y decimosegundo trabajo "Born Villain", 13 nuevos temas, después de tres largos años tras su «The High End Of Low» en 2009, sus fans y varias revistas prestigiosas estadounidenses auguran una vuelta a sus orígenes, se comenta que se parece muy mucho a su quinto álbum de estudio «The Golden Age of Grotesque». El tema de aquel álbum "MObscene" tiene muchas similitudes con éste "No reflection"(No Lucubro).
«Te hará más daño a ti que a mí, no huyas de mi,
un arma y una cuchilla son cosas comune,
no estoy de vacaciones en dónde huele a muerte,
como en una estación vacía hecha de cicatrices,
llenas de mis viejas heridas».
Born Villain estará a la venta el próximo 1 de mayo, a través del propio sello discográfico de Manson, Hell, Etc., su gira mundial "Hey Cruel World…Tour 2012" arrancará el próximo 11 de abril en el Club Nokia de Los Angeles para los premios "Golden Gods Awards", su primera actuación en directo desde hace casi tres largos años, que luego seguirá por el este y medio este de Estados Unidos hasta el día 20 de mayo que actuará en el "Eagles Ballroom" en Milwaukee, Wisconsin, cuatro días después recorrerá casi 6.200 kilómetros para estar enen el Rock Coast Festival de Santa Cruz de Tenerife el jueves 24 de mayo, junto a The Smashing Pumpkins e Iggy Pop & The Stooges entre otros. De ahí volará a Rusia, pasando por media Europa, la otra fecha española para Marilyn Manson será el 21 de julio en la primera edición del Festival Costa de Fuego de Benicàssim.
Trailer oficial de «Born Villain» 2012
Manson ha editado con éste "Born Villain" 12 álbumes, vendido más de 50 millones de copias, tres de ellos de platino en EE UU y otros tres de oro, conocido por su talento con la guitarra, el piano, el bajo y batería, ha sido actor en «Lost Higway», de David Lynch, o «Bowling for Colombine» (2002), de Michael Moore. Pero su influencia va más allá, como dijo Johnny Depp "Manson me inspiró para Willy Wonka" en «Charlie y la fábrica de chocolate» en año 2005. Precisamente Johnny Depp interpretará junto a Marilyn Manson la canción de Carly Simon "You're so vain" en el nuevo disco como Bonus tracks del mismo.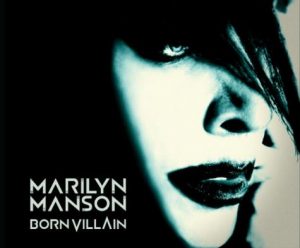 Tracklist de Born Villain, 2012
01. Hey Cruel World…
02. No Reflection
03. Pistol Whipped
04. Overneath The Path Of Misery
05. Slo Mo Tion
06. The Gardener
07. The Flowers Of Evil
08. Children Of Cain
09. Disengaged
10. Lay Down Your Goddamn Arms
11. Murders Are Getting Prettier Every Day
12. Born Villain
13. Breaking The Same Old Ground
Marilyn Manson premiered the video for his single "No Reflection" today . Directed by Lukas Ettlin, the video explores wreckage and sanctity with stabs of live performance from one of music's most innovative visual artists.
Leading up to the release of Born Villain, Marilyn Manson will be touring the United States for the first time since 2009. He kicks it off by headlining the Revolver "Golden Gods Awards" on April 11th at Club Nokia in Los Angeles – his first U.S. performace in nearly three years.
Touring  U.S in days and then jumping to Europe and stopping by in Spain with two dates, Rock Coast Festival in Santa Cruz de Tenerife, May 24th and Festival Costa de Fuego in  Benicàssim July 21st.
NORTH AMERICA TOUR 2012 (Con The Pretty Reckless de teloneros (warm up band).
04/27 Lupo's At The Strand, Providence, RI
04/28 Hampton Casino, Hampton Beach, NH
04/29 The Paramount, Huntington, NY
05/01 Fillmore, Silver Spring, MD
05/02 Wellmont Theatre, Montclair, NJ
05/04 House Of Blues, Atlantic City, NJ
05/05 Stage AE, Pittsburgh, PA
05/06 Orbit Room, Grand Rapids, MI
05/08 Val Air Ballroom, Des Moines, IA
05/09 W.H. Lyons Fair Grounds, Sioux Falls, SD
05/11 Palladium Ballroom, Dallas, TX
05/12 Sunken Gardens, San Antonio, TX
05/13 House of Blues, Houston, TX
05/15 Diamond Ballroom, Oklahoma City, OK
05/16 Uptown Theatre, Kansas City, MO
05/18 The Brick, Minneapolis, MN
05/19 Eagles Ballroom, Milwaukee, WI
05/20 Rock on the Range Festival, Columbus, OH
Intro de Marilyn Manson para su gira y DVD «Guns, God and Government» Tour durante 2002, hazte una idea.
EUROPEAN TOUR 2012
05/24 Rock Coast Festival, Tenerife, Spain
05/26 Club Arena, Moscow, Russia
05/28 DS Yubileiny, St Petersburg, Russia
05/31 Festi'Neuch, Neuchatel, Switzerland
06/01 Rock Am Ring, Nürburgring, Germany
06/03 Rock Im Park, Nürnberg, Germany
06/04 013, Tilburg, Netherlands
06/05 Le Zenith, Paris, France
06/07 Gran Teatro Geox, Padova, Italy
06/08 Nova Rock, Nickelsdorf, Austria
06/12 Zalgiris Arena, Kaunas, Lithuania
06/15 Metaltown Festival, Gothenburg, Sweden
06/16 Copenhell Festival, Copenhagen, Denmark
07/06 Les Ardentes, Liege, Belgium
07/07 Sonisphere Festival, Amnéville, France
07/08 Sonisphere Festival, Knebworth, UK
07/11 Arena Civica, Milan, Italy
07/14 Klub Stodoła, Warsaw, Poland
07/15 Great Hall Lucerna, Prague, Czech Republic
07/16 Pool Bar Fest, Feldkirch, Austria
07/19 Théâtre Jean-Deschamps, Carcassonne, France
07/21 Costa de Fuego Festival, Benicàssim, Spain
CANADA TOUR 2012
08/11 Heavy Toronto Festival, Toronto, ON
08/12 Heavy Montreal Festival, Montreal, QC