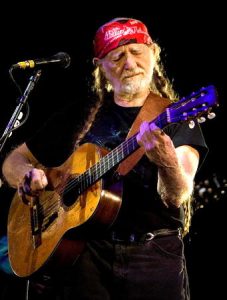 Willie Nelson uno de los grandes forajidos y grandes compositores de la música norteamericana, cumple hoy 79 años, defensor, activista e instigador de derecho civiles en todo el planeta, e icono de la música Country.
Fundador junto a otro forajidos del movimiento Outlaw junto a Leon Russell, Merle Haggard, Johnny Cash, Kriss Kristofferson, Jessi Colter, Sammi Smith y Waylon Jennings entre otros contra aquella moda que instauró a mediados de los años 60 con la moda del sonido Nashville que templaba la música Country de toda la vida como el Honky Tonk, llegándola a ningunear, y llevándola a terrenos más Pop y músicas más blandas, siendo Chet Atkins la cabeza visible del nuevo sonido Nashville, apoyado por grandes medios de comunicación y discográficas.
Una equivalencia aproximada sería lo que está ocurriendo con la corriente de la música indie rock como respuesta al Rock and Roll, corriente musical asociada con muchas bandas en los años 80 desde Estados Unidos y Gran Bretaña, siendo éstas demasiado sensibles, hipnóticas y falta de ritmos abrasivos y energía.
En su primera etapa como compositor y antes de llegarle su popularidad, muchísimos artistas interpretaban sus letras, y fue a comienzo de la década de los 60 cuando despegaba su carrera, primero dentro de festivales hippie's y activista en defensa de derechos civiles (Farm Aid, junto a Neil Young y John Mellencamp) y luego al ser contratado por grandes productoras discográficas, esculpiendo ya el estilo Willie Nelson, Country muy personal con ribetes de Rock and Roll, Blues,Folk, Western Swing y Jazz, de ahí también su vestimenta, combinar botas con calzado deportivo, forma de llevar el pelo más largo, etc.
Apoyadónse siempre de su inseparable guitarra "Trigger", firmada por multitud de artistas, la Martin N-20, homenajeando al caballo del actor y cantante Roy Rogers, con su sonido único por la forma se haberse fabricado dicha guitarra, y del punteo y sonido que emana el instrumento al tocarla Willie Nelson, así como la forma de cantar única del cantante.
Hace una semana una estatua fue levantada en Austin, para muchos y para nostros sin duda la capital de la música en su Texas natal con motivo de un festival en favor y legalización del consumo de la marihuana y en la que no paró de cantar su fantástica canción "Roll Me Up and Smoke Me When I Die" (Líame y fúmame cuando muera).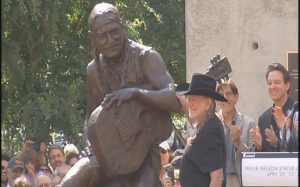 Además de cantante y compositor, ha sido actor en series de televisión y ha hecho cameos en películas y desde hace muchísimos años ferviente defensor de la agricultura natural, la ecología, defensor del consumo de la marihuana, y propietario de una empresa con combustible biológico, llamado Bio-Willie, y en el que él y su banda recorren Estados Unidos con su legendario autobús llamado Honeysuckle Rose IV con su banda Willie Nelson & Family, de la que recientemente uno de sus mejores amigos falleció, Chris Ethridge.
Willie Nelson & Family en un concierto junto a Chris Ethridge en 1974 cantando "Whiskey River Stay All Night".
American musical treasure Willie Nelson was immortalized in a bronze statue in Austin, Texas last week, and turns 79 years young on Monday, April 30. His exclusive SiriusXM channel Willie's Roadhouse (SiriusXM 56) will be celebrating all day long with special messages from many of his musical friends, as well as a rebroadcast of the statue unveiling ceremony at 6 pm ET, including Willie's impromptu live performances of "On the Road Again" and "Roll Me Up and Smoke Me When I Die," comments from Kris Kristofferson and sculptor Clete Shields, and an interview with Austin Mayor Lee Leffingwell and Dallas Wayne. Willie's special day will be capped off with a replay of last weekend's homecoming concert at the Backyard in Bee Cave, Texas, rebroadcast in its entirety at 10 pm ET.