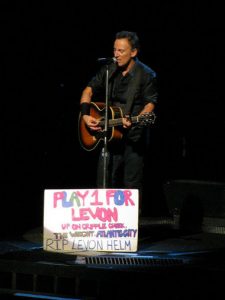 Bruce Springsteen and the E street Band concluyen la primera parte de la gira norteamericana "Wrecking Ball Tour", gritando río arriba a través del Hudson, para rendir un merecido homenaje a Levon Helm con "The Weight", en su concierto número veinte de la gira, en Newark, New Jersey, ayer miércoles 2 de mayo,  el estado que vio nacer a Springsteen hace 62 años.
Tuve la suerte de ver a Levon Helm un par de veces en directo y acostumbraba en sus conciertos versionar "Atlantic City" de Bruce Springsteen. The Band incluyó este tema en su disco Jericho (1993), un disco con muchísimas versiones.
Bruce Springsteen despedía así la primera etapa de su gira por Estados Unidos, que retomará el próximo 18 de agosto en Boston, después de terminar su gira europea, que comenzará en España el próximo domingo 13 de mayo en Sevilla y finalizará en Helsinki en 31 de julio próximo.
La gira española de Springsteen arribará en Las Palmas de Gran Canaria el 15 de mayo, Barcelona los días 17 y 18 de mayo, San Sebastián 2 de junio y Madrid 17 de junio.
Para el primer concierto de Barcelona el 17 de mayo no quedan entradas, al igual que sus conciertos de Frankfurt, Colonia, Berlín y Londres.
El concierto se celebró ante más de 20 mil gargantas en el nuevo pabellón de los New Jersey Nets, el remozado Prudential Center, atrás quedaron los maravillosos conciertos de Springsteen y otras grandes estrellas en aquel templo de los Nets llamado el Brendan Byrne Arena o Continental Airlines Arena, ¡qué tiempos!.
Levon Helm y The Band versionando a Bruce Springsteen con "Atlantic City"
El concierto sirvió para homenajear a Levon Helm, recientemente fallecido, e interpretando un fantástico "The Weight" y cantar otras 25 canciones, entre las que se encontraban "Bishop Danced" y "It's Hard to be a Saint in the City" dos primicias en forma de regalo a sus vecinos de Jersey.
"Bishop Danced" es uno de los temas que Springsteen escribió en el arranque de su carrera musical a comienzos de los años 70 y que está editado en su Tracks Box de cuatro cd's en 1998 y que solamente fue interpretado en los inicios de su carrera y cantó en alguna emisora de radio y en algún pequeño concierto.
Al igual que la poco dada a interpretar y una de las mejores canciones de Bruce Springsteen en mi opinión, "It's Hard to be a Saint in the City" como ofrecimiento a sus vecinos y con el doble sentido del Springsteen más fanfarrón y chulo del South Side, "ser difícil ser un santo en tu ciudad" de su fantástico directo de 1973, Greetings from Asbury Park.
Estas dos canciones fueron interpretadas en los albores de la fiesta Springsteen, el maravilloso himno del Country Rock "The Weight", escrita por el forajido Robbie Robertson, guitarrista y compositor de The Band e interpretada por nuestro ídolo Levon Helm, cantada por "The Boss"  justo antes del encore y cierre del concierto, del pasado 2 de mayo.
Como dije,  Bruce Springsteen, guitarra en mano, silencio sepulcral en Newark y llevando a todos por esa ruta y camino del juicio final a través del río Hudson, arrastrándose por el camino del infierno y reencontrándose con Danny Federici, Clarence Clemons y el mismo diablo, aceptando una cama a cambio de mis perros E street Band
Liberaos de carga, libérate, libérate de tu carga Fanny y ponla sobre mi.
"Take a load off, Fanny
Take a load for free
Take a load off, Fanny
And you put the load right on me"
Puedes leer nuestro articulo sobre Levon Helm In Memóriam como tributo a uno de los más grandes músicos de la historia, fallecido el pasado 19 de abril a los 71 años.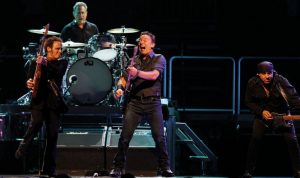 Bruce Springsteen ended the first leg of his "Wrecking Ball" tour in Newark, N.J., on Wednesday May 2nd night and paid special tribute to The Band singer Levon Helm, who died April 19 at age 71.
Springsteen called Helm "one of the greatest, greatest voices in country, rockabilly and rock 'n' roll … staggering … while playing the drums. Both his voice and his drumming were so incredibly versatile. He had a feel on the drums that comes out of certain place in the past and you can't replicate it."
The Boss then launched into "The Weight," The Band's 1968 hit. Levon Helm regularly covered Springsteen's "Atlantic City" and recorded the song with a latter day version of The Band.
All Starr Band, una de las grandes super bandas de la historia de la música, su líder Ringo Starr y su insuperable banda Billy Preston, Dr. John, Joe Walsh (Eagles), Levon Helm, Rick Danko y Garfh Hudson de The Band, Nils Lofgren y Clarence Clemons de la The E Street Band