"I come from Alabama with my B-A-N-J-O on my knee".
Neil Young & Crazy Horse acaban de presentar "Oh Susannah", su primer y nuevo vídeo del esperado disco "Americana", que estará a la venta el próximo 5 de junio, el número diecisiete de toda su carrera.  "Oh Susannah" una versión del clásico Folk de Stephen Foster escrita en 1848.
Recordemos que fue "Greendale" en 2003, el último trabajo de los caballos salvajes, Billy Talbot (bajo), Ralph Molina (batería) y Frank "Poncho" Sampedro (guitarra) junto a Neil Young, un disco concebido como una ópera rock ambientada en una ciudad ficticia, y rodada en su totalidad para su DVD muy cerca de San Francisco.
"I come from Alabama with my B-A-N-J-O on my knee".
Dirty Rock tuvo la suerte de ver ese concierto en directo el 22 de julio del 2003 en el Greek Theatre de Los Angeles, donde también estuvo, de telonera, Lucinda Williams, ahí es nada.
El pasado 23 de enero de 2012, en aquella rueda de prensa y coloquio entre Neil Young y Jonathan Demme en el Slamdance Film Festival 2012 en Park City, Utah, se daban los primeros detalles de la grabación de dos discos junto con los Crazy Horse, primero de este "Americana" en el que combina clásicos del Rock, Rythm & Blues, Gospel, Country y Folk.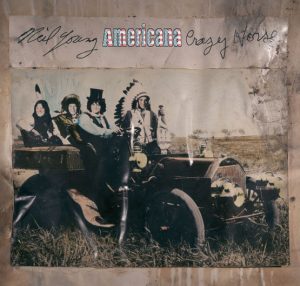 Puedes leer el fantástico articulo publicado por Dirty Rock acerca de Americana, la rueda de prensa y como se gestó su nuevo disco.
Grabado en los estudios Audio Casa Blanca con la producción del propio Neil Young, John Hanlon y Mark Humphreys, se pondrá a la venta el próximo 5 de junio con 11 temas: Oh Susannah, Clementine, Tom Dooley, Gallows Pole, Get A Job, Travel On, High Flyin' Bird, She'll Be Comin 'Round The Mountain, This Land Is Your Land, Wayfarin' Stranger y God Save The Queen.
"I come from Alabama with my B-A-N-J-O on my knee".
Neil Young y Dave Matthews interpretando "Oh Susannah" el pasado 23 de octubre para el Bridge School Benefit Concert, en Mountain View al sur este de San Francisco en California
La versión de "Oh Susannah" que más se asemeja a la de Neil Young & Crazy Horse es la de The Big Three, con Tim Rose y Cass Elliot la cantante de The Mamas and the Papas, grabada en 1963 y con arreglos de otra canción llamada "The Banjo Song".
Clásicos todos ellos de Stephen Foster, Percy Montrose, The Kingston Trio, Led Zeppelin, Silhouettes, Billy Grammer, Jefferson Airplane, Carl Sandburg (Ramblin' Tommy Scott), Woody Guthrie, Burl Ives y The Sex Pistols.
Escucha los temas originales y genuinos de los que Neil Young & Crazy Horse realizan sus versiones en la lista de reproducción de nuestro canal de Dirty Rock Youtube.
Por cierto, aparece la primera fecha de la gira Neil Young & Crazy Horse para el Outside Lands del Golden State Park en San Francisco para los días 10, 11 y 12 de agosto, con un cartel de órdago, Stevie Wonder, Metallica, Foo Fighters, Beck, Norah Jones, Jack White, Franz Ferdinand, Alabama Shakes, Dirty Dozen Brass Band, Two Gallants y muchísimos más.
"I come from Alabama with my B-A-N-J-O on my knee".
Neil Young and Crazy Horse sing in their new release "Oh Susanna." The band has dusted off their leather-fringe jackets and is returning to the spotlight with the new album Americana slated for release June 5 via Reprise records.
This latest addition to the Crazy Horse cannon features asymmetrical guitar riffs and call-and-answer choruses — classic Neil, aged to perfection.
Americana contains 11 cuts of standard folk tunes, re-appropriated in the Neil Young rock tradition. Check out "Oh Susanna" below, set to some found footage of a banjo player and his family.