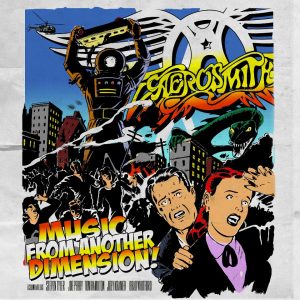 Aerosmith regresan con un nuevo disco de estudio "Music from another Dimension" el próximo 28 de agosto, el décimo quinto de la banda,  para celebrarlo poner en circulación su nuevo single "Legendary Child" y un vídeo adelanto del mismo.
El vídeo está dirigido por Casey Patrick Tebo, el mismo director que va ha realizado "Aerosmith: Rock for the Rising Sun", una película documental acerca de la relación de la banda norteamericana con sus fans japoneses.
Aerosmith presentó en directo el pasado 23 de mayo "Legendary Child" en el programa de televisión American Idol, el Operación Truinfo estadounidense, en el que además interpretaron "Dream On" y "Walk this Way".
El nuevo disco "Music from another Dimension" está producido por Jack Douglas que trbajó también en sus álbumes «Toys In The Attic» (1975), «Rocks» (1976) y «Honkin' On Bobo» (2004).
Aerosmith y Cheap Trickacaban de presentar su gira conjunta "The Global Warming Tour" que recorrerá Estados Unidos y Canadá comenzando el 16 de junio en Minneapolis y culminando el 8 de agosto en Tacoma, Washington.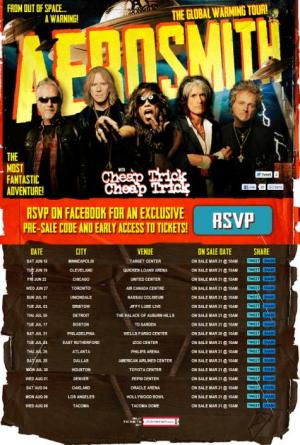 Ambas bandas regresan de su gira por tierras latino americanas y niponas con grandísimo éxito de público y crítica.
Por el momento no se ha anunciado gira europea de ambas formaciones.
El tracklist de «Music From Another Dimension» es:
01. What Could Have Been Love
02. Beautiful
03. Street Jesus
04. Legendary Child
05. Oh Yeah
06. We All Fall Down
07. Another Last Goodbye
08. Out Go the Lights
09. Love Three Times a Day (Hello Goodbye)
10. Closer
11. Shakey Ground
12. Lover A Lot
13. Freedom Fighter
14. Up On The Mountain
A preview of the official video for AEROSMITH's new single, «Legendary Child», is available below. The clip was filmed with director Casey Patrick Tebo, who also is helming a new concert film titled «Aerosmith: Rock For The Rising Sun». According to Tebo's official web site, the movie, which will focus on AEROSMITH's relationship with the group's Japanese fans, will be released later this year or in 2013.
«Legendary Child» will appear on AEROSMITH's 15th studio album, titled «Music From Another Dimension», which will arrive on August 28. Aerosmith's «The Global Warming» tour will kick it off on June 16 at the Target Center in Minneapolis, Minnesota and wrap up on August 8 in Tacoma, Washington.