Fue la sorpresa de la noche. El actor Johnny Depp se subía al escenario con The Black Keys para interpretar con ellos "Gold on the Ceiling" y "Lonely Boy" dentro de la fiesta MTV Movie Awards 2012.
Johnny Depp, el Keith Richards del cine, recibió ayer 3 de junio de 2012 en el Gibson Amphitheatre de Los Angeles, el Premio MTV Movie Award a la Generación, MTV Generation Movie Award 2012, de manos de Steven Tyler y Joe Perry, fundadores de Aerosmith.
Recordemos que el pasado 11 de abril Johnny Depp y Marilyn Manson se despachaban a gusto en el Club Nokia de Los Angeles, en los premios "The Metal Hammer Golden Gods Awards", la primera actuación en directo de Marilyn Manson tras tres largos años.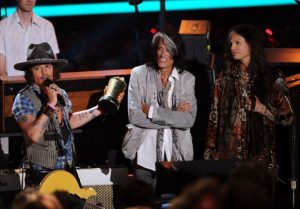 Johnny Depp tocó la guitarra junto al anticristo superstar, "Sweet Dreams" y "The Beautiful People", puedes leer nuestro artículo sobre aquella actuación y el clásico de Carly Simon y Mick Jagger a los coros,"You're so vain" es la nueva canción de Marilyn Manson, en la que el actor y amigo Johnny Depp colabora en el nuevo disco de Manson "Born Villain".
Johnny Depp, además de actor, director de vídeos musicales, productor y músico confeso y gran amante del Rock and Roll desde muy joven en su Florida natal, formó su primera banda llamada The Kids como guitarrista, luego Rock City Angels y P, la banda con la que grabó un álbum y llegó a compartir escenario con multitud de estrellas.
Johnny Depp llegó a abrir una sala de conciertos en Los Angeles, llamada The Viper Room, junto a su amigo y actor River Phoenix, muerto en la misma puerta del local el mismo año de su inauguración en 1993. Depp traspasó The Viper Room en 2004, un local de referencia en Los Angeles en cuanto al Rock se refiere.
Johnny Depp ha compartido escenario y grabado junto a Eddie Vedder, Iggy Pop, Patti Smith, Alice Cooper, Billy Gibbons, Bill Carter y Oasis, entre otros.
Recientemente se pudo ver al actor Johnny Depp durante el estreno de su próxima película, "The Rum Diary",  junto a Keith Richards justo después del estreno del filme, tocando junto a Richards en un club de Nueva York el pasado 25 de octubre de 2011.
El pasado viernes 1 de junio, The Black Keys estrenaba un nuevo y divertido vídeo «Gold on The Ceiling» dirigido por el controvertido director Harmony Korine.
Johnny Depp chose to accept the MTV Generation Award at tonight's Movie Awards by playing two songs with the Black Keys "Gold on the Ceiling" and "Lonely Boy" from their new album El Camino.