Como cada año la reunión de seguidores de Neil Young más importante en España y una de las más importantes en Europa llega a su tercera edición la III Rust Fest La Playa, Festival de tributo a Neil Young en Torredembarra (Tarragona) los días 6 y 7 de julio de 2012.
Y como cada año el cartel del magnífico festival tributo a uno de los más grandes hace referencia a un disco suyo el «Everybody Knows This Is Nowhere» (1969), los Crazy Horse en su primera intervención como banda de acompañamiento de Neil y segundo disco de estudio del canadiense
En dicho cartel aparece la portada del disco original y el monumento de Torredembarra llamado Alfa-Omega que está cercano a la costa tarraconense, dicho cartel está diseñado por Gerardo Orellana.
Durante el fin de semana del 6 y 7 de julio, los seguidores de Neil Young y los grandes amantes de la buena música podrán disfrutar del  III Rust Fest La Playa, Festival de tributo a Neil Young en Torredembarra, un festival sin animo de lucro en el que su finalidad es rendir tributo al genio canadiense y en el nutrido grupo de asistentes interactúen con la música, la gastronomía, las proyecciones, las charlas y las visitas turísticas en la ciudad catalana.
Siete grupos nacionales serán los encargados de llevar toda la música de Neil Young a los Heart of Gold en ese 6 y 7 de julio.
El lugar elegido en Torredembarra para que se lleven a cabo todos los actos será La Traviesa Bluegrass Bar, que encuentra situado en el interior de la población, en la calle Girona nº 5 a unos 100 metros de la estación de Renfe en la que tienen parada todos los trenes procedentes de Barcelona y Tarragona.
El municipio de Torredembarra se encuentra situado a 14 kilómetros al norte de la ciudad de Tarragona y a 90 kilómetros al sur de Barcelona. Sus principales vías de comunicación con la capital catalana son la carretera y el tren. Este último, enlaza la población con la ciudad de Barcelona con frecuencias diarias de hasta 20 minutos en ambos sentidos. La duración del trayecto es de 50 minutos aproximadamente.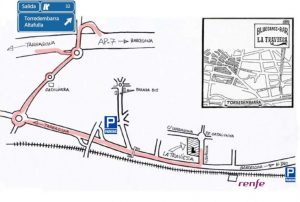 Como en la pasada edición del Festival en la playa de Bolonia en Cádiz,se promoverá la «Fila Cero». La idea es intentar recoger dinero para así poder sufragar, al menos en parte, los gastos de desplazamiento y alojamiento de los músicos. Los interesados deberán rellenar el formulario indicando la aportación a realizar y dando al botón "Enviar fila cero", y realizar el ingreso en la cuenta indicada para tal fin, anotando como concepto el nombre+aportación fila cero.
También en el III Rust Fest La Playa, Festival de tributo a Neil Young en Torredembarra, habrá un apartado para merchandising en el que se pondrán a la venta diversos artículos, cuya recaudación irá destinada a sufragar los gastos de manutención de los músicos.
Desde Dirty Rock apoyamos esta magnífica iniciativa que se lleva realizando desde el 2010 con el I Rust Fest en Valdoviño (A Coruña) y su segunda edición el II Rust Fest en Playa de Bolonia (Cádiz).
Te invitamos al encuentro de fans de Neil Young y amantes de la música en el III Rust Fest La Playa, Festival de tributo a Neil Young en Torredembarra, un festival donde Everybody Knows This Is Nowhere en la bella Torredambarra que está Down by the River y todo nos sonorá a Cowgirl in the Sand y Cinnamon Girl, Round & Round (It Won't Be Long).
Un cartel, una ciudad y un festival de traca, cita ineludible en el calendario para el amante de Neil Young y la buena música, avance y calientamiento de motores de su próxima gira europea y española de Neil Percival Young.
Keep on Rockin' in the Eree World!!
III RustFest La Playa in Tarragona, Best Neil Young's Tribute Festival in Spain, Torredambarra (Tarragona) July 6th and 7th.