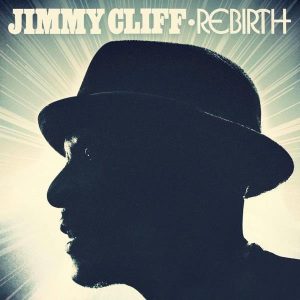 Jimmy Cliff tiene nuevo disco «Rebirth» que salió al mercado el pasado 17 de julio, después de que el pasado año tuviésemos un EP suyo llamado «Sacred Live». Un disco producido también por Tim Armstrong (Rancid, Operation Ivy o Dance Hall Crashers), como hizo en su anterior EP  «Sacred Live».
El disco contiene 10 canciones originales y dos versiones, una de The Clash con»Guns of Brixton» y otra de Rancid con Ruby Soho». El nuevo single del jamaicano «One More» es fantástico.
Jimmy Cliff comenzó el pasado junio su nueva gira mundial en Estados Unidos. El  7 de julio da comienzo su gira europea y Madrid fue la única ciudad española en recibirlo durante los conciertos de «Los Veranos de la Villa» el pasado 16 de julio.
https://youtu.be/sAGIG5gORtI
Jimmy Cliff es uno de los representantes y grandes pioneros del Reggae y de la música, tras quellos comienzos en el Rocksteady, Ska o Roots-Reggae. Siempre se ha dicho, antes de Bob Marley estuvo Jimmy Cliff, y punto.
Hasta incluso uno de los más grandes compositores de la historia como es Bob Dylan, aseveró y perjuró que la canción compuesta por Jimmy Cliff  «Vietnam» era la mejor canción protesta escrita contra aquella guerra del Vietnam.
John Lennon lo admiraba, y Paul Simon se llevaba a la banda de Cliff al completo a sus estudios para grabar una de las primeras canciones o quizás la primera canción Reggae de mayor éxito escrita e interpretada por un hombre blanco como fue Paul Simon en  1972, llamada «Mother and Child Reunion.»
«The Harder They Come», fue una película que protagonizó el propio Jimmy Cliff, y que revolucionaría el mundo del Reggae y definiría plenamente el género ideológicamente, con Jamaica de epicentro musical. Bob Marley se dio cuenta de ello y despegaría definitivamente.
Primero se tomó como referencia el apodo del famoso ladronzuelo en los años cuarenta en Jamaica Vincent «Ivanhoe'» Martin, apodado «Rhygin», que se traslada del campo a la ciudad buscándose un porvenir mejor, en esas se convierte en cantante y es asesinado por la policía años más tarde. La banda sonora de la película y especialmemente tres canciones de Jimmy Cliff revolucionarían un nuevo mundo por descubrir con el nuevo género, el Reggae.
Esas tres canciones fueron «You Can Get It If You Really Want», «Many Rivers to Cross» y «The Harder They Come», además de grandes clásicos como «Rivers of Babylon», «007» o «Draw Your Brakes» .
Como otros géneros y artistas, como es en el caso del Soul o del Blues Rock, Jimmy Cliff pisa a fondo para revitalizar y reinventar de nuevo para todo tipo de masas un magnífico disco llamado «Rebirth», muy recomendable.
Escucha el nuevo disco de Jimmy Cliff «Rebirth»:
Jimmy Cliff has announced new album «Rebirth» out July 17th
Jimmy Cliff in US Tour right now and jumpin' up Europe in July . Madrid was only date at his Euro Tour, July 16th.