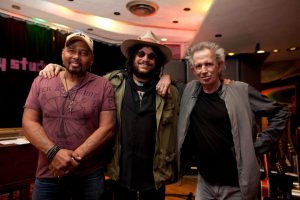 Keith Richards coproduce con Don Was (que también produce el disco de Van Morrison ), dueño de Blue Note Records (EMI), el nuevo disco de Aaron Neville, «My True Story» que estará a la venta el próximo 22 de enero de 2013.
Aaron Neville soulman, cantante de R&B y amigo de Keef están preparando en «My True Story»,  un disco de versiones de Doo-wop para el próximo otoño.
Greg Leisz, guitarra (Beck, Sheryl Crow, Bob Dylan, Ryan Adams), Benmont Tench al órgan0 ( Tom Petty and the Heartbreakers), George G. Receli a la batería   (Bob Dylan, James Brown), y  Tony Scherr  al bajo (Bill Frisell, Norah Jones, Rufus Wainwright) es la gran banda y combo que han montado Aaron Neville junto a Keith Richards que también toca la guitarra en muchas de las canciones del disco y Don Was para otro disco que dará que hablar el próximo año con esa conexión entre la guitarra de Richards y la voz de Aaron Neville.
Escucha «My True Story» de Aaron Neville
El tracklist de «My True Story» es el siguiente:
Money Honey (Jesse A. Stone)
My True Story (Eugene Pitt & Oscar Waltzer)
Ruby Baby (Jerry Leiber & Michael Stoller)
Gypsy Woman (Curtis Mayfield)
Ting a Ling (Nugetre)
Be My Baby (Jeff Barry, Ellie Greenwich & Phillip Spector)
Little Bitty Pretty One (Robert J. Byrd)
Tears On My Pillow (Sylvester Bradford & Al Lewis)
Under The Boardwalk (Arthur Resnick & Kenny Young)
Work With Me Annie (Hank Ballard)
This Magic Moment / True Love (Medley) (Doc Pomus & Mort Shuman)
Goodnight My Love (Pleasant Dreams) (John S. Marascalco & George Motola)
Vídeo de la grabación de «My True Story» de Aaron Neville, con entrevistas a Keith Richards y Don Was
Aaron Neville es una de las grandes voces del Rhythm & Blues y Soul con un cierto toque creole y New Orleans en sus cuerdas vocales. Junto a sus hermanos Charles Neville, Art Neville y Cyril Neville formaron The Neville Brothers en la ciudad del Jazz, Nueva Orleans.
The Neville Brothers contribuyeron notablemente a difundir con sus discos y conciertos todo el espirutu New Orleans desde mediados de la década de los setenta.  A finales de los noventa, debido a problemas de salud de algunos miembros de la banda, The Neville Brothers se toman un descanso. En algunos festivales puntuales la banda vuelve a reunirse con la adición del hijo de Aarron Neville, Ivan Neville, que toca el piano.
Aaron Neville comenzó su carrera musical muchísimo antes de conformarse The Neville Brothers, ya en 1966 con su canción «Tell It Like It Is» conseguiría alcanzar el número uno de R&B de Estados Unidos. Otros éxitos sonados de Aaron Neville fueron las canciones «Don't Know Much» y «All My Life», incluidas en el aquel multi premiado disco de Linda Ronstadt, «Cry Like a Rainstorm, Howl Like the Wind».
Como dato anecdótico el hijo de Aaron Neville, Ivan Neville ha participado en los dos discos en solitario de Keith Richards, «Talk is Cheap» (1988) y «Main Offender» (1992), además de su disco en  directo «Live at the Hollywood Palladium» (1991), siendo miembro de la banda de Keith Richards llamada The X-Pensive Winos en la que tecla el piano y teclados.
Aaron Neville y Keith Richards con los The X-Pensive Winos versionando a Eddie Cochran «Something Else»
Soul/R&B vocalist Aaron Neville has announced a deal with EMI's Blue Note Records and will release a full-length album this Fall. The record, produced by Keith Richards and Blue Note Records President Don Was, is a collection of classic material from the doo-wop era.