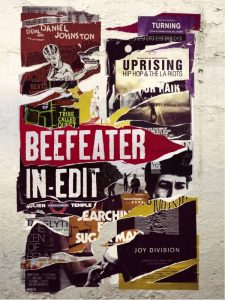 El 10º Festival Internacional de Cine Documental Musical de Barcelona, Beefeater In-Edit 2012, tendrá lugar del 25 de octubre al 4 de noviembre de 2012, suponiendo la 25ª inauguración de un festival IN-EDIT en el mundo y que en su inauguración contará con el estreno de The Rolling Stones Charlie is My Darling. Ireland 1965, el film inédito sobre los Stones, que Peter Whitehead filmó en dos días de 1965 a The Rolling Stones en Dublín y Belfast y hoy restaura y completa Mick Gochanour o el estreno europeo de «Sunset Strip».
El Festival IN-EDIT 2012 ha elegido 100 películas (Don't Look Back, Gimme Shelter,  El último Vals, Year of the Horse, Joy Division, Metallica: Some Kind of Monster, etc), entre diferentes directores de documentales, músicos, realizadores televisivos, críticos de cine y de música, programadores de festivales, y periodistas por sus películas documentales musicales de no-ficción preferidos, y en el que el Top 10 será parte de la programación de la décima edición.
Trailer del IN-EDIT 2012
Julien Temple es la persona homenajeada en esta décima edición del Festival IN-EDIT de Barcelona, el director británico, autor de The Great Rock 'n' Roll Swindle sobre el Punk y los Sex Pistols en Gran Bretaña. Parodia-homenaje al mundo del rock donde comienza su amor incondicional por la legendaria banda punk.
Julien Temple destaca también en documentales como Glastonbury (centrado en el mítico festival de rock), Oil City Confidential (documental sobre el grupo Dr. Feelgood), Madness: The Liberty of Norton Folgate (sobre el regreso discográfico de la banda inglesa de ska Madness) e incluso un extracto de la aún no estrenada Requiem for Detroit, registro de la decadencia económica y moral de la ciudad norteamericana. Joe Strummer: The Future is Unwritten o Absolute Begginers, son otros de sus trabajos.
Julien Temple, también es el director de vídeos musicales, en los que ha realizado vídeos para Tom Petty ( «Free Fallin'», «Yer So Bad», «Learning To Fly», «Into The Great Wide Open», «King of the Hill»), The Rolling Stones («Undercover of the Night», «She Was Hot», «Too Much Blood», «Highwire») o David Bowie («Absolute Beginners», «Blue Jean», «Day-In Day-Out», «Tin Machine») .
El Festival IN-EDIT de esta décima edición tiene como novedades una sección llamada Sección Fan, en la que el público vota y elige el documental que quiere ver de ediciones pasadas. Otra sección nueva es Doc Alive, proyección de documental y concierto.
La oportunidad a través de la propia web del festival IN-EDIT de poder ver online muchos de los contenidos de dicho festival al igual que el estreno de «Get What you Want», un documental sobre los diez años del 10º Festival Internacional de Cine Documental Musical de Barcelona.
En cuanto a premios y títulos, trece en Secciones oficiales, tres en la sección Premios, y diecinueve en Excedlents.
Las salas de proyección del 10º Festival Internacional de Cine Documental Musical de Barcelona, son:
Aribau Multicines Sala 5. El mítico cine de la calle Aribau (espacio para la inauguración en las últimas ediciones) se convierte en sede permanente del festival.
Aribau Club 2 Salas. Mantenemos un año más las dos salas del Aribau Club.
Filmoteca de Catunya. La nueva sede de la Filmoteca proyectará algunos títulos de Julien Temple.
La sección oficial internacional del IN-EDIT 2012 en Barcelona la componen documentales como «Art Will Save The World. A film about Luke Haines», «Don't Follow Me (I'm Lost), «Gozaran. Time Passing», «Grandma Lo-Fi: The Basement Tapes of Sigrídur Níelsdóttir», «I Am Not a Rock Star», «Searching for Sugar Man», «Shut Up and Play the Hits»,»Sunset Strip», «The Punk Syndrome»  o «Uprising: Hip Hop and The LA Riots».
Y la sección nacional del IN-EDIT la comparten «A Film About Kids and Music. Sant Andreu Jazz Band», «Adrià Puntí» y «Conxita Badia no existeix».
El Top 10 de películas que proyectará el festival IN-EDIT Barcelona 2012 es el siguiente, Dont Look Back, Gimme Shelter, I Am Trying to Break Your Heart: A Film About Wilco, Instrument, Let's Get Lost, Stop Making Sense, The Devil and Daniel Johnston, The Filth & The Fury, The Last Waltz y This is Spinal Tap.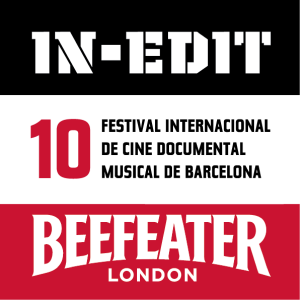 A la sección Excedlents destacamos los documentales «33 Revolucions: Senior i Refree» (Dos ejemplos de un ambicioso programa musical televisivo que consigue manifestar el alma de un músico mediante imágenes. Se llama 33 Revolucions, y su meticuloso lenguaje audiovisual ofrece panorámicas magistrales de Senior y Refree.), «Under African Skies» (Hace 25 años, Paul Simon eludió el boicot al apartheid en Sudáfrica y grabó allí Graceland. El aniversario del disco pone de manifiesto una vieja controversia. Todas las voces implicadas examinan música, política y el acatar (o no) dictados oficiales.).
«Tropicália» (El filme total sobre el tropicalismo, centrado en sus integrantes (Caetano, Gil, Os Mutantes, Tom Zé…), pero también en fuentes inexploradas como la TV, el teatro y la moda. Un orgasmo visual hecho de archivo raro, collages pop y declaraciones brillantes.), «The Zen of Bennett» (Zen es la palabra. Una clase magistral: anecdotario, consejos y meditación sobre vida y arte. El disco de duetos del gran maestro crooner deviene excusa para meditar sobre música y el hacer bien las cosas. Toman apuntes Amy Winehouse, Norah Jones y más).
«Something From Nothing: The Art of Rap» ("Las letras lo son todo". Esto no va de coches o joyas; va del oficio de rimar. Ice-T debuta con una perspectiva novedosa: abrir la cabeza de los artesanos del rap para ver su interior. Todos los raperos se adhieren a la búsqueda. Tendrán revelaciones), «Produced by George Martin» (Formal como su protagonista, este clásico producto BBC entra en la vida del productor más celebrado del mundo. Una buena vida contada con sublime detalle y afecto. Sordera, discos de humor, Peter Sellers, incipiente r'n'r, Beatles y más. Todo está aquí).
«Barón Rojo. Larga vida al Rock&Roll» (Un grupo heavy de no-amigos que triunfó. ¿Dónde se torció todo? Su reencuentro para la gira del 30 aniversario expone los cismas y las cimas, la chapuza española, los fans (Bunbury, entre ellos), la postura obrerista y su carácter anti-Movida. Al rojo vivo.), «Beats, Rhymes & Life: The Travels of A Tribe Called Quest» (Can I kick it? Yes you can! La historia completa –del pupitre al estrellato- del grupo más zumbón del hip hop. Ropa cuestionable, Native Tongues y buen rollo a montones, pero también disenso y ruptura. Hablan todos, de Qtip y Phife Dawg a Jungle Brothers), u Ornette: Made in America (Relevancia total. Un documento tan libre y epiléptico como meticuloso y explicativo. El visionario del free jazz en pleno proceso de canonización, tomado en su entorno, narrado en pasado y presente. Humildad y genio conviven en un mismo receptáculo).
Resumen en vídeo de la edición pasada IN-EDIT 2011
inedit 2011 from RV Films on Vimeo.
Canción oficial de la décima edicición del IN-EDIT 2o12, «When Are You Comin' Home» de Slow Joe