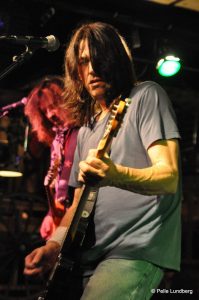 Todo preparado para que arranque una nueva y larga gira de Dan Baird and Homemade Sin por el viejo continente y con un total de 35 conciertos por Europa,  abriendo fuego y gira en España el 31 de octubre en La Coruña y rematándola el 16 de diciembre en Liverpool, Inglaterra.
Dan Baird and Homemade Sin ofrecen un total  de seis conciertos en forma de dinamita en España, en el que en tres de ellos compartirán cartel y escenario con Jim Wilson en Bilbao el 1 de noviembre en el Kafe Antzokia, el 2 de noviembre en Madrid, SalaEl Sol y el 6 de noviembre en Barcelona, Apolo 2.
La Coruña (Mardigras) el 31 de octubre, Jerez de la Frontera (Festival Serie Z) y Alicante (Caja Negra) el 4 de noviembre, son las otras tres ciudades donde los aficionados al Rock and Roll disfrutarán como nunca con Dan Baird & Homemade Sin.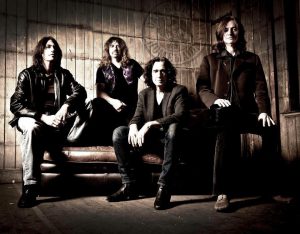 Dan Baird (voz y guitarra), vendrá acompañado de los Homemade Sin, que son, Warner E. Hodges (guitarra y voz)  miembro de Jason & The Scorchers, Keith Christopher (bajo) miembro de los Shaver y The Yayhoos y Mauro Magellan (batería) de los Georgia Satellites.
Dan Baird californiano compositor, aunque afincado ahora en Nashville,  coleccionista de guitarras y productor, es reconocido como un pionero del Alt. Country Music y Cow-Punk en Estados Unidos y también por ser miembro fundador de la legendaria banda norteamericana The Georgia Satellites.
Dan Baird es sinónimo de Rock and Roll, actitud y guitarras. Entre su gran colección de guitarras y amplis a válvulas, su favorita es una original Fender Esquire del 57 que perteneció a Steve Marriott, frontman, voz y gutarrista de Small Faces y Humble Pie. Comprada en 1983.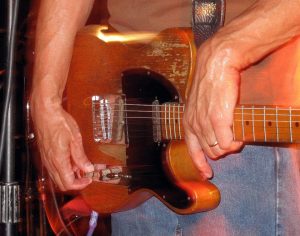 Recientemente Dan Baird colaboraba con Dirty Rock en el primero de cuatro artículos de opiniones sobre el 50 aniversario de The Rolling Stones, que puedes leer clicando en el que se incluían grandes nombres como Charles Berry Jr. (hijo de Chuck Berry), Willie Nile, el propio Dan Baird, Elliot Murphy, Eilen Jewell, Jonny Kaplan, Javier Escovedo, Walter Daniels, Share Ross, Brett Wolfie, Jeff Massey, Joseph Winters, Edgey y Delila, Danny Champ y Manny Montana.
Nombre clave también para la Americana Music, ha sido miembro de The Yayhoos, The Bluefields y en estos instantes pertenece a Dan Baird & Homemade Sin. Dan Baird es sin duda alguna una combinación de The Rolling Stones y Neil Young pasado por una batidora Country.
Recientemete ha concluido Dan Baird una mini gira en Estados Unidos con Bobby Keys  el saxofonista de The Rolling Stones, con "Bobby Keys & The Suffering Bastards",  Steve Gorman (The Black Crowes), Robert Kearns (Lynyrd Skynyrd), Michael Webb (John Fogerty, Poco) y Chark Kinsolving (Mike Farris, Spoonful).
Gira de Dan Baird and Homemade Sin en España Tour 2012:
DAN BAIRD & HOMEMADE SIN
31-oct. La Coruña. Mardigras
3-nov. Jerez de la Frontera. Festival Serie Z
4-nov. Alicante. Caja negra
DAN BAIRD VS JIM WILSON
1-nov. Bilbao. Kafe Antzokia
2-nov. Madrid. El Sol
6-nov. Barcelona Apolo 2
Dan Baird comienza en el año 2005 su nuevo proyecto y disco ulterior, como Dan Baird & Homemade Sin, disco homónimo en 2009 con 14 nuevas canciones, producido por Homemade Sin y Ben Strano.
Escucha a Dan Baird and Homemade Sin.
El pasado 21 de septiembre Dan Baird and The Homemade Sin han publicado un DVD de un concierto en directo en Nashville titulado «Viva Nashvegas!», recordando aquel incidente que tuvieron durante una gira en otoño del 2011 cuando fueron arrestados por la policía de la frontera suiza por llevar un vehículo ilegal y material de contrabando (discos, material de merchandising de la banda, instrumentos, etc), los cuales fueron incautados durante doce horas si no se pagaba una fianza que alcanzaba las 9 mil libras (11 mil euros).
Al final pagaron la fianza y se demostró que la leyes suizas en cuanto a zonas fronterizas no son muy permisivas en cuanto a la carga de material y vehículos autorizados. Dan Baird and Homemade Sin editan este DVD grabado en Nashville, Tennessee con la intención de recaudar el dinero confiscado por los suizos.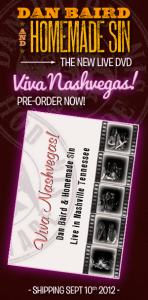 El tracklist del DVD «Viva Nashvegas!» de Dan Baird and The Homemade Sin es el siguiente, Well Enough Alone, I Dunno, Julie and Lucky, I Love You Period, Crooked Smile, Two For Tuesday / Proud Mary, Lil Bit, Lazy Monday, Railroad Steel, Damn Thing To Be Done, Another Chance, Younger Face, Don't Pass Me By, Keep Your Hands To Yourself, Hard Days Night, While My Guitar Gently Weeps, Sheila (Do Ya Wanna Dance) y Helpless.
El pasado año tambien Dan Baird and The Homemade Sin editaron un DVD magnífico "Live at Sweden Rock Festival" (2011), grabado el 4 de junio de 2009, con un cd de regalo de su concierto en el Bordeline de Londres en julio de 2009.
Dan Baird tiene en su haber, como hemos dicho, ser uno de los pioneros del Cow punk en Estados Unidos o el Country Punk con muchos ribetes sureños, junto a legendarios nombres como Jason & The Scorchers o The Long Riders a mediados de los años ochenta y que luego en los noventa se manifestaría como Alt. Country o Country alternativo.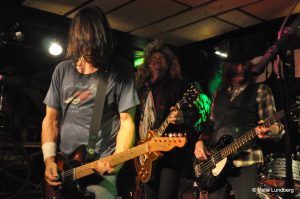 Dan Baird, miembro fundador de The Georgia Satellites, una de las bandas más importantes dentro de la historia del Rock and Roll y especialmente en Estados Unidos su legión de seguidores es inmensa. Su disco "In the Land of Salvation and Sin" (1989) y aquella gira junto a Tom Petty & The Heartbreakers durante el verano de 1987 los catapultaba a lo más alto como una de las mejores bandas del planeta. Rick Rubin produjo su primer y maravilloso disco en solitario en 1991: "Love Songs for the Hearing Impaired".
Aquella gira de 1987 de Tom Petty and The Heartbreakers llamada "Rock'N' Roll Caravan' 87" en la que actuaban de teloneros The Del Fuegos y Georgia Satellites fue legendaria. La velocidad musical, el duelo de guitarras y la forma de vestir de cuatro jóvenes macarras norteamericanos utilizando los mismos acordes del Rock and Roll de toda la vida hicieron que su primer disco, homónimo, "Georgia Satellites" (1986) alcanzase el t0p 5 de ventas nacional y el número 2 del Billboard en 1986, siendo su primer disco.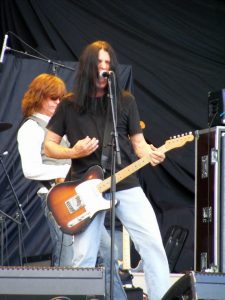 La canción que abriría el disco es la maravillosa "Keep your hand to Youself", como dato anecdótico después de "Livin' on a Prayer" de Bon Jovi fue la canción que más se escuchó en todas las emisoras norteamericanas y llegó a ser la número dos de aquel 1986.
The Georgia Satellites, tras cuatro años en  y tres discos en su haber, Dan Baird (voz y guitarra), Rich Richards (guitarra), Dave Hewitt (bajo) y Randy Delay (batería) se separaban tras duros enfrentamientos y querían hacerlo a lo grande con la obra maestra "In the Land of Salvation and Sin" (1989), un disco que huele a Rock enloquecido y a Nashville por todos los sitios. Canciones tristes y oscuras debido a los problemas de la banda, y muchísimo Boogie Rock y polvo de carretera desprendido ¡¡un auténtico discazo!!.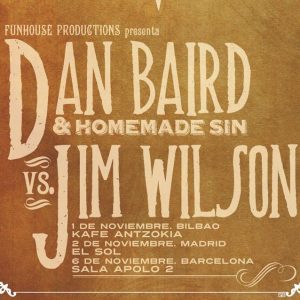 The Georgia Satellites rompen en 1990, Dan Baird haría su primer y magnífico disco en solitario con Rick Rubin como productor "Love Songs for the Hearing Impaired" (con "I love you period" como estandarte), mientras que el guitarrista Rich Richards se unió a la magnífica banda de Izzy Stradlin, JuJu Hounds. The Georgia Satellites han vuelto a dar giras sin Dan Baird , sin éxito, y han publicado un disco con varios temas en directo, "Shaken But Not Stirred" (1997).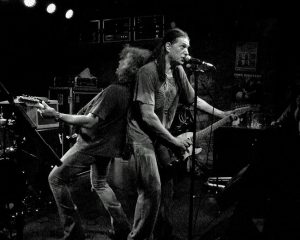 En los de los años noventa compagina sus labores de productor, con la realización de otros proyectos personales como el super grupo de músicos The Yayhoos, con el guitarrista Eric 'Roscoe' Ambel miembro de bandas como Joan Jett & The Blackhearts, The Del Lords, Steve Earle y The Bottle Rockets; Keith Christopher, bajo, y miembro de bandas como Billy Joe Shaver, Tony Joe White y Kenny Wayne Shepherd y finalmente el batería Terry Anderson que tocó para The Woodpeckers y escribió canciones para Dan Baird y The Georgia Satellites. Además de formar parte de la banda de Country Trent Summar & the New Row Mob.
Aún tenemos en la retina y aún con las orejas sangrando aquella actuación memorable de Dan Baird en el Azkena Rock Festival de un viernes 25 de 2010 a pesar de actuar los primeros de la tarde, ardió Mendizabala.
Dan Baird and Homemade Sin are touring Europe from october 31 in La Coruña, Spain till December 16 in Liverpool, England. Dan Baird and Homemade Sin have six shows in Spain and three of them sharing stage with Jim Wilson.
Dan Baird and Homemade Sin are touring Netherlands, Germany, Switzerland, Belgium, Wales, Scotland and England.