The Jim Jones Revue estarán de gira en España en noviembre, Barcelona (20, Music Hall), Valencia (21, Sala Wah Wah), Alicante (22, Stereo), Madrid (23, Sala Arena) y Bilbao (24, Kafe Antzokia).
"The Savage Heart" es el nuevo y tercer disco de los ingleses The Jim Jones Revue, banda que fusila Rock and Roll, Garage y Punk en andanadas, su nuevo disco ha sido producido por Jim Sclavunos (Grinderman o Nick Cave & The Bad Seeds).
Jim Jones, Rupert Orton, Henri Herbert, Gavin Jay y Nick Jones, unen sus fuerzas para realizar un disco como "The Savage Heart" compuesto de nueve canciones que sudan Johnnie Johnson o Little Richard de manera salvaje y desenfrenada, Rock psicótico, sólo tienes que escuchar su primer y fantástico y homónino disco "Jim Jones Revue" del 2008.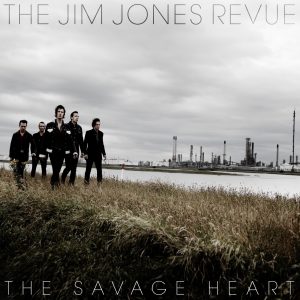 The Jim Jones Revue y sus corazón feroz se ablanda por momentos en su nuevo trabajo "The Savage Heart", como ocurrió en su anterior "Bring your house down", mismo productor Jim Sclavunos, con toques superfluos que untan canciones para ampliar su propuesta o planteamiento inicial de banda realmente impactante y salvaje.
Mantienen su alma negra en todas sus canciones, pero en "Chain Gang" o Eagle Eye ball"son dos claros ejemplos a esos sonidos y aires que queremos explicar en el anterior párrafo.
Escucha "The Savage Heart" de Jim Jones Revue
The Jim Jones Revue están de gira en Japón desde comienzos del mes de noviembre y arranca su gira europea en Francia el próximo 15 de noviembre, pasando por España, Italia, Alemania, Luxemburgo, Bélgica, Holanda, Irlanda del Norte e Irland.
Fechas de las gira española de The Jim Jones Revue.
Barcelona 20 de noviembre en Music Hall
Valencia 21 de noviembre en la Sala Wah Wah
Alicante 22 de noviembre en Stereo
Madrid 23 de noviembre en la Sala Arena
Bilbao 24 de noviembre en el Kafe Antzokia