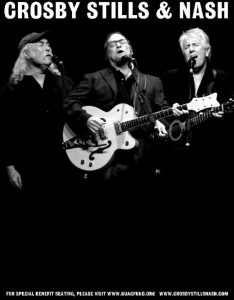 Crosby, Stills & Nash confirman fechas para una nueva gira europea en junio y julio de 2013, tras su mastodóntica gira norteamericana que culminó el pasado mes de septiembre y que tuvo como resultado la publicación de un DVD/2CD's Boxset de un directo llamado "CSN 2012", grabado durante esta reciente gira, y completado con una entrevista a los tres miembros de la banda.

Crosby, Stills & Nash estuvieron antes de comenzar al gira grabando canciones para un futurible nuevo álbum con el productor Rick Rubin, disco de versiones  que podría titularse"Songs We Wish We'd Written" (Canciones que hubiéramos escrito).
Crosby, Stills & Nash y su relación con el productor, no fue la mejor y estamos a la espera de un próximo comunicado de la banda acerca de ese nuevo disco de versiones con temas de The Rolling Stones, The Who o The Beatles.
Crosby, Stills & Nash confirman como primeras fechas de su gira europea en Alemania a partir del 20 de junio de 2013 en Dresden, hasta el 5 de julio en París.
Crosby, Stills & Nash y sus fechas de la gira europea 2013.
20 junio, Junge Garde Dresden
21 junio, Schiebtalplatz Schwabguld
23 junio, SAP Arena Mannheim
24 junio, Kunstrasen Bonn
26 junio, Burg Abenberg Abenberg
28 junio, May Schmeling Halle Berlin
29 junio, Stadpark Hamburgo
1 julio, Tollwood Festival Munich
2 julio, Westfalenhalle Dortmund
4 julio, Olympia Paris
5 julio, Olympia Paris