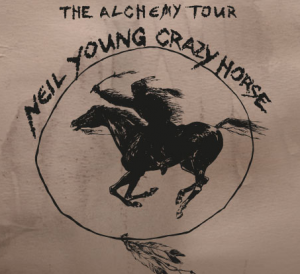 Neil Young & Crazy Horse confirma fechas para su gira europea denominada The Alchemy Tour 2013, tras ratificar recientemente su gira por Australia y Nueva Zelanda el próximo marzo de 2013.
Neil Young & Crazy Horse comenzarán su gira europea The Alchemy Tour 2013  en junio, confirmando primeramente países como Alemania, Francia, Bélgica, Inglaterra Escocia e Irlanda.
El rumor de que Neil Young & Crazy Horse puedan tocar en España se acrecenta y es muy probable que actúe en nuestro país en algún festival y ciudades por determinar para presentar sus dos últimos trabajos "Psychedelic Pill" publicado el pasado 30 de octubre, tras Americana, su álbum de versiones publicado el pasado 5 de junio de 2012.
A falta de confirmación oficial, Neil Young & Crazy Horse tendrán un nuevo disco en directo de la actual gira que se hace en Canadá y Estados Unidos llamado "Alchemy".
Así concluye la trilogía que comenzó con "Rust Never Sleeps" en 1979 y "Weld" en 1991 de sus conciertos en directo Neil Young.
Puedes leer una de nuestras crónicas de Neil Young en su penúltima gira española en el 2008, tocando en el Rock in Río de Arganda del Rey en Madrid un 27 de junio.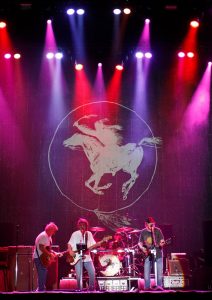 Neil Young & Crazy Horse The Alchemy Tour 2013, gira europea, fechas confirmadas.
2 de junio Berlin, Waldbühne
3 de junio Hamburg, O2 World
5 de junio Amsterdam, Ziggo Arena
6 de junio Paris, Bercy
8 de junio Bruselas, Vorst Nationaal
10 de junio Newcastle, Metro Arena
11 de junio Birmingham, NEC
13 de junio Glasgow, SECC
15 de junio Dublin, RDS
17 de junio Londres, O2
11 de julio, Luxemburgo, Rockhall
12 de julio Colonia, Lanxess Arena
14 de julio, Suiza
15 de julio, Vienne, Theatre Antique
17 de julio, Nimes, Les Arenes
18 de julio Biarritz, Big Festival
20 de julio Carhaix, Vielles Charrues
22 de julio  Stuttgart, Porsche Arena
23 de julio Nyon, Paleo Festival
25 de julio Lucca, Piazza Napoleone
26 de julio Roma, Rocking Roma
Neil Young & Crazy Horse The Alchemy Tour 2013, gira Oceánica en Australia y Nueva Zelanda, fechas confirmadas.
Mar 2, 2013 – Perth Arena, Perth
Mar 5, 2013 – Adelaide Entertainment Centre, Adelaide
Mar 7, 2013 – Brisbane Entertainment Centre, Brisbane
Mar 9, 2013 – A Day On The Green – Bimbadgen Winery, Hunter Valley
Mar 10, 2013 – Sydney Entertainment Centre, Sydney
Mar 15, 2013 – Rod Laver Arena, Melbourne
Mar 16, 2013 – A Day On The Green – The Hill Winery, Geelong
Mar 19, 2013 – TSB Bank Arena, Wellington
Mar 21, 2013 – Vector Arena, Auckland