«Ghost Brothers Of Darkland County», es el musical co-escrito por John Mellencamp, el director de cine Stephen King  y T Bone Burnett encargado de la dirección musical, y Susan V. Booth será la conductora de la obra que se estrenará el próximo 19 de marzo de 2013 por la compañía teatral Alliance Theatre, tras trece largos años de espera.
«Ghost Brothers Of Darkland County», cuenta la relación de dos hermanos que se odian entre sí, ambos descubren que su padre tuvo otros dos hijos que también se odiaban, hasta el punto que acabaron el uno al otro. Los espíritus de estos dos parientes se dedicarán a atormentar a los nuevos protagonistas, ambientado en la época actual y en el Mississippi de los años 60.
El reparto de «Ghost Brothers Of Darkland County» tendrá a grandes artistas sobre el escenario, como a Stephen King y John Mellencamp que adata la obra de King a las canciones y además,  interpretarán a algunos de los personajes de la obra y no se descarta que músicos que han participado en la banda sonora de la obra teatral como Elvis Costello, Kris Kristofferson, Rosanne Cash, Neko Case o Sheryl Crow actúen en muchas de sus funciones.
Escucha la banda sonora de «Ghost Brothers of Darkland County».
La banda sonora de la obra es realmente impresionante con nombres como Dave Alvin, Phil Alvin, Elvis Costello, Rosanne Cash, Ryan Bingham, Sheryl Crow, Neko Case, Taj Mahal, o Kris Kristofferson.
El primer adelanto de la banda sonora es «That's me » de Elvis Costello y que puedes escuchara  continuación.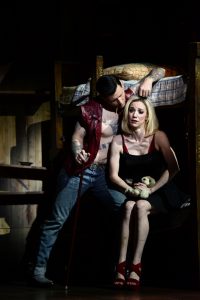 «Ghost Brothers Of Darkland County» Track listing:
That's Me – Elvis Costello
That's Who I Am – Neko Case
So Goddamn Smart – Dave Alvin, Phil Alvin, Sheryl Crow
Wrong, Wrong, Wrong About Me – Elvis Costello
Brotherly Love – Ryan Bingham and Will Dailey
How Many Days – Kris Kristofferson
You Are Blind – Ryan Bingham
Home Again – Sheryl Crow, Dave Alvin, Phil Alvin, Taj Mahal
What's Going On Here – Rosanne Cash
My Name Is Joe – Clyde Mulroney
Tear This Cabin Down – Taj Mahal
And Your Days Are Gone – Sheryl Crow, Dave Alvin, Phil Alvin
Jukin' – Sheryl Crow
What Kind Of Man Am I – Kris Kristofferson, Phil Alvin, Sheryl Crow, Dave Alvin, Taj Mahal
So Goddamn Good – Phil Alvin, Dave Alvin, Sheryl Crow
Away From This World – Sheryl Crow
Truth – John Mellencamp