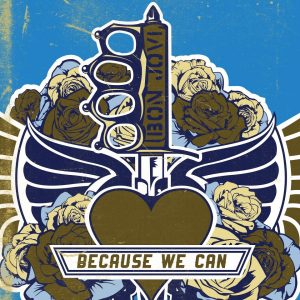 Bon Jovi presenta «Because We Can», el primer tema de su próximo disco titulado «What About Now",  y que dará título a su nueva gira mundial «Because We Can World Tour 2013», que comenzará el próximo 9 de febrero en Conneticut, visitando multitud de ciudades norteamericanas hasta el mes de  abril, dar el salto a Sudáfrica, y aterrizar en Europa a partir del  14 de mayo en Bulgaria hasta el 3 de julio en Escocia con fechas ya confirmadas.
La histórica banda de New Jersey, integrada por Jon Bon Jovi,  Richie Sambora, Tico Torres y David Brian, presentarán su nuevo disco "What About Now" el 26 de marzo.
Tras Bon Jovi actuar en el concierto benéfico de 121212, Jon Bon Jovi estará presente en los próximos premios Golden Globe Awards con la nominación a su canción «Not Running Anymore» a la mejor canción del año,  en la película «Stand Up Guys», protagonizada por Al Pacino y Christopher Walker, dirigida por  Fisher Stevens, en la que Jon Bon Jovi interpretó para la banda sonora otra canción «Old Habits Die Hard».
La entrega de premios de los Golden Globe Awards será el próximo 13 de diciembre de 2013, la banda sonora de la película «Stand Up Guys» es realmente prometedora con genios como Baby Huey and The Babysitters, Gary Clark, Jr., Elvin Bishop, Muddy Waters and Wayne Cochran & CC Riders, Charles Bradley o Sharon Jones & the Dap-Kings.
Bon Jovi European Tour 2013 "Because We Can Tour" Gira Europea, fechas:
14 mayo – Levski Stadium – Sofía (Bulgaria)
17 mayo – Race Course Krieau – Viena (Austria)
18 mayo – Olympic Stadium – Munich (Alemania)
21 mayo – Valle Hovin – Oslo (Noruega)
22 mayo – Koengen – Bergen (Noruega)
24 mayo – Olympic Stadium – Estocolmo (Suecia)
26 mayo – Ratina Stadium – Tampere (Finlandia)
06 junio – Parken Stadium – Copenhague (Dinamarca)
08 junio – Etihad Stadium – Manchester (UK)
09 junio – Villa Park – Birmingham (UK)
12 junio – City Stadium – Cardiff (UK)
13 junio – Stadium of Light – Sunderland (UK)
15 junio – Slane Castle – Dublín (Irlanda)
18 junio – Olympic Stadium – Berlín (Alemania)
19 junio – PGE Arena – Gdansk (Polonia)
21 junio – Wasen – Stuttgart (Alemania)
22 junio – Rheinenergiestadion – Colonia (Alemania)
24 junio – Synot Arena – Praga (República Checa)
26 junio – Parque Da Bela Vista – Lisboa (Portugal)
27 junio- Estadio Vicente Calderón- Madrid (España)
29 junio – San Siro – Milán (Italia)
30 junio – Stadt de Suisse – Berna (Suiza)
03 julio – Hampden Park – Glasgow (Escocia)