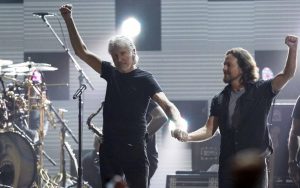 121212 The Concert for Sandy Relief, el concierto Benéfico del Huracán Sandy se celebró el pasado 12 de diciembre en el Madison Square Garden de Nueva York con el único objetivo de recaudar dinero en beneficio de los damnificados por el huracán Sandy, con The Rolling Stones, Bruce Springsteen and The E Street Band, Eric Clapton, The Who, Paul McCartney, Chris Martin (Coldplay), Alicia Keys, Bon Jovi, Dave Grohl (Foo Fighters), Billy Joel, Eddie Vedder (Pearl Jam), Kanye West o Roger Waters (Pink Floyd) como grandes estrellas de la noche.
Bruce Springsteen and The E Street Band abrió la noche y Alicia Keys la cerraba tras la actuación de Paul McCartney, más de seis horas de concierto, más de 30 millones de dólares recaudados hasta esa noche a través de Robin Hood Relief Fund, cerca de diez mil personas in situ presenciando en directo el concierto y Billy Crystal como maestro de ceremonias, en la que se recordó a Ravi Shankar, quien participó en el Concierto por Bangladesh de 1971 y quien era considerado el padre de los conciertos de beneficencia, Jimmy Fallon, Adam Sandler, Jon Stewart, Sean Combs, Leonardo DiCaprio o Brian Williams también formaron parte del espectáculo.
Entre lo más destacable del 121212 The Concert for Sandy Relief, como siempre la actuación del «The Boss», Roger Waters fantástico con la guinda final del «Comfortably Numb» con Eddie Vedder, Eric Clapton, la corta pero electrizante actuación de The Rolling Stones, The Who fantásticos, Billy Joel impresionante y cerrando la gran gala Paul McCartney y Nirvana con Paul McCartney a las voces.
Los Setlists de los artistas fueron los siguientes:
-Bruce Springsteen and the E Street Band
Land of Hope and Dreams
Wrecking Ball
My City of Ruins
Born To Run con Jon Bon Jovi
-Roger Waters
In The Flesh
The Happiest Days of Our Lives
Another Brick In The Wall Pt. 2
The Ballad Of Jean Charles de Menezes
Money
Us and Them
Comfortably Numb con Eddie Vedder
-Bon Jovi
It's My Life
Wanted Dead or Alive
Who Says You Can't Go Home con Bruce Springsteen
Living On A Prayer
-Eric Clapton
Nobody Knows You When You're Down and Out
Got To Get Better In A Little While
Crossroads
-The Rolling Stones
You Get Me Rocking
Jumping Jack Flash
-The Who
Who Are You
Bell Boy
Pinball Wizard
See Me Feel Me/Listening To You
Baba O'Riley
Love Reign O'er Me
Tea and Theatre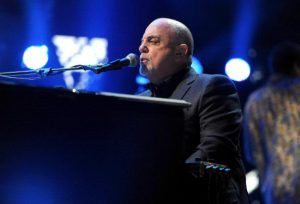 -Billy Joel
Miami 2017 (Seen The Lights Go Out On Broadway)
Movin' Out (Anthony's Song)
Have Yourself A Merry Little Christmas,  New York State Of Mind
River Of Dreams
You May Be Right
Only The Good Die Young
-Paul McCartney
Helter Skelter
Let Me Roll It
1985
My Valentine con Diana Krall)
Blackbird
-Nirvana ( Dave Grohl, Pat Smear y Krist Novoselic) con Paul McCartney
Cut Me Some Slack
I've Got A Feeling
Live and Let Die