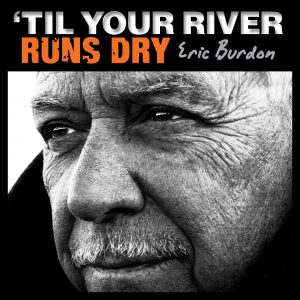 Eric Burdon regresa con un nuevo disco 'Til Your River Runs Dry, compuesto por doce canciones, producido por Tony Braunagel y grabado en Playback Studios y Ultratone Recording en Studio City, ambos en California y en New Orleans y que saldrá a la venta el próximo 29 de enero de 2013, coincidiendo con el 50 aniversario de The Animals.
'Til Your River Runs Dry, de Eric Burdon se ha grabado con la actual banda de Fats Domino en Nueva Orleans como el propio cantante ha reconocido, grabando temas dedicados a Bob Diddley.
Eric Burdon, tras su último y magnífico disco de estudio "My Secret Life" (2004), tras dieciseis años sin editar ningún trabajo, pudimos comprobar in situ en su concierto en el Auditorio de Santa Cruz de Tenerife un 26 de julio de 2005, su magnífico estado de forma.
Escucha 'Til Your River Runs Dry de Eric Burdon.
Eric Burdon dos años más tarde pùblicaba otro disco tributo a sus héroes musicales como John Lee Hooker, Ray Charles y su ciudad favorita New Orleans, con aquel disco "Soul of a Man" (2006).
Eric Burdon y la publicación de su nuevo disco de estudio " 'Til Your River Dry", coincide con el 50 aniversario de su banda The Animals, que junto a los Rolling Stones, The Animals de Eric Burdon y Alan Price fue uno de los conjuntos musicales clave del Rhythm & Blues británico de los 60, y verderos precursores de la invasión britránica en Estados Unidos.
Con el paso de los años su sonido tendió hacia posturas psicodélicas. The Animals proceden de la ciudad de Newcastle a comienzos de los 60, influencidiados enormemente por el Blues y por la música negra norteamericana se hacían llamar The Kansas City Five, en sus filas estaban el cantante Eric Burdon , el teclista Alan Price y el batería John Steel.
Escucha "Water" de Erick Burdon extraído de su nuevo disco 'Til Your River Runs Dry.
Eric Burdon nos sorprendía el pasado 27 de noviembre con un magnífico EP de cuatro canciones,  publicado conjuntamente con los geniales The Greenhornes, titulado Eric Burdon & The Greenhornes.

'Til Your River Runs Dry tracklist del nuevo disco de Eric Burdon
1) Water
2) Memorial Day
3) Devil And Jesus
4) Wait
5) Old Habits Die Hard
6) Bo Diddley Special
7) In The Ground
8) 27 Forever
9) River Is Rising
10) Medicine Man
11) Invitation To The White House
12) Before You Accuse Me