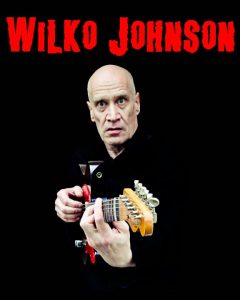 Wilko Johnson, el gran guitarrista, compositor y actor, componente de grandiosas bandas como Dr. Feelgood, e Ian Dury & The Blockheads, padece cáncer terminal de páncreas, según una nota de prensa de su mánager Robert Hoy.
Wilko Johnson dejará de someterse a quimioterapia bajo su propia voluntad. El músico se encuentra con ánimos para concluir su último disco de estudio, realizar una pequeña gira por Francia y hacer una gira de despedida por el Reino Unido.
La nota de prensa anima a todos sus fans y agradece todo el apoyo recibido durante toda su carrera. Wilko Johnson fundó Dr. Fellgood en 1971, junto con Lee Brilleaux a las voces y percusión, John B. Sparks, conocido como «Sparko», al bajo, y John Martin «The Big Figure» a la batería.
Wilko Johnson fue el único compositor de la banda que practicó Rhythm & Blues y Punk Rock en los cuatro primeros discos de Dr. Feelgood – en los que se intercalaron sus temas propios con versiones, según el estilo clásico – «Down by the Jetty» (1975), «Malpractice» (1975), «Stupidity» (1976) y «Sneakin' Suspicion» de 1977, año en que Wilko Johnson dejó Dr. Feelgood.
Entrevista a Wilko Johnson en la BBC One, realizada el 15 de febrero
Fechas de la gira de despedida de Wilko Johnson:
27 febrero, Bristol, The Fleece
6 de marzo, Londres, Koko (todo vendido)
7 de marzo, Bilston, Robin (todo vendido)
8 de marzo, Holmfirth, Picturedome (todo vendido)
9 de marzo, Glasgow, O2
10 de marzo, Londres, Koko
Técnica y método de guitarra de Wilko Johnson.
En 1980 se unió al grupo de Ian Dury, Ian Dury & The Blockheads, antes de formar su propia banda Wilko Johnson Band. Participó en el disco de Blockheads «Laughter», y compuso junto a Ian Dury la canción «Superman's Big Sister». En el siguiente vídeo le vemos en una actuación con los Blockheads en uno de sus éxitos «Hit Me With Your Rhythm Stick)».

Wilko Johnson es conocido por el gran público por participar como actor en la serie medieval «Juego de Tronos», en la que participó durante las dos últimas temporadas interpretando el personaje de Ser Ilyn Payne.
Wilko Johnson, from Dr Feelgood and Ian Dury and The Blockheads, has been diagnosed with terminal cancer.