Lucinda Williams visitará España el próximo junio para dar una serie de conciertos en acústico junto con el guitarrista y músico de sesión Doug Pettibone. Presentarán su último disco "Blessed" (2011) y temas de toda su discografía en una gira mundial denominada "An Intimate Evening with Lucinda Williams featuring Doug Pettibone".
Lucinda Williams y Doug Pettibone se conocen desde hace más de 10 años, desde que comenzara su colaboración en el disco World without tears (2003), como arreglista de composición, multi instrumentalista y director, hacen que la colaboración Lucinda Williams-Doug Pettibone se establezca en los siguientes cinco discos y giras en los discos Live @ the Fillmore (2005), West (2007), Little Honey (2008) y Blessed (2011).
Lucinda Williams está a punto de llegar a un acuerdo con una nueva discográfica, tras romper con su anterior compañía Lost Highway, en la que estuvo trece años, como te contamos en nuestro artículo publicado en Dirty Rock y que puedes leer pinchando en el enlace.
Doug Pettibone es un productor, arreglista y músico de sesión muy cotizado en el mundo de la música y especialmente en Estados Unidos, Norah Jones, Alejandro Escovedo, Vic Chesnutt, Mark Knopfler, Dave Koz, John Doe, Joan Baez, Tracy Chapman o Marianne Faithfull, entre otros, han pasado por sus manos, además de multiples giras, las recientes con Ray LaMontagne, Sting y Marianne Faithfull.
Doug Pettibone, gran coleccionista de guitarras y virtuoso del pedal steel, drobo, guitarra acústica, ukelele, banjo, mandolina y guitarra eléctrica, especialmente sus modelos favoritos son las James Trussart, Gretsches '60s Duo Jets y '63 Chet Atkins Nashville, Gibson ES-33, Matchless Clubman 35, Fender Princeton '62 o el pedal steel modelo Fender Twin Blackface, son los ha utilizado en muchísimos discos y conciertos de Lucinda Williams.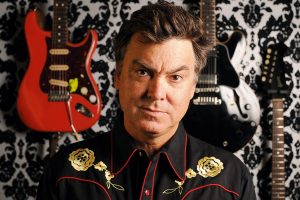 Aunque las guitarras más utilizadas por Doug Pettibone los discos de estudio de la Reina de la Americana Music, Lucinda Williams, son la Gretsch modelo '63 Chet Atkins Nashville y la Gibson ES-33.
Doug Pettibone, alentado por Lucinda Williams, está inmerso en la grabación de un nuevo disco producido por ella, como dos datos anecdóticos Doug aparece en los créditos de muchísimas canciones de la banda sonora de "West of Memphis: Voices for Justice", de la que te hemos hablado en Dirty Rock y del nuevo proyecto de Johnny Depp, con canciones relacionadas con piratas, Son of Rogue's Gallery: Pirate Ballads, Sea Songs and Chanteys, con artístas como Keith Richards, Tom Waits, Dr. John, Iggy Pop, Patti Smith, Nick Cave, Robyn Hitchcock, Courtney Love, Michael Stipe, Macy Gray, etc. y de la que también hemos dado cuenta en nuestra revista.
Lucinda Williams visitó por primera vez España en el 2009, presentando el disco "Little Honey", ganadora de tres Gammy's, considerada como la mejor compositora americana, Reina de la Americana Music y del Country Folk Rock electrificado, natural de Lousiana, como los mejores bourbons, su carrera despegaba cuando Bob Dylan la llamó para que lo acompañara a una gira en 1998, en la que Dylan presentaba la obra maestra Time Out of Mind.
Lucinda Williams y sus letras hablan de hurgar en esas heridas producidas por las emociones, siempre tratando de esquivar el dolor y aún así, cayendo una y otra vez en él. Lucinda Williams leía poesía de su padre Miller Williams, de ahí su amor a las palabras y el lenguaje de sus canciones.
Gira española Lucinda Williams y Doug Pettibone, "An Intimate Evening with Lucinda Williams featuring Doug Pettibone".
11 de junio Santiago de Compostela (Ciclo Galicia Importa)
13 de junio Joy Eslava, Madrid
14/de junio  BARTS, Barcelona
15 de junio Kafe Antzokia, Bilbao