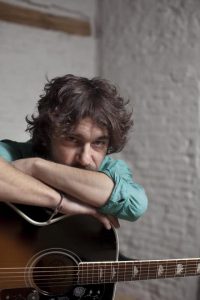 Quique González publica «Delantera Mítica» el próximo 19 de febrero de 2013, su noveno disco de estudio, labrado en Alex The Great Studios en Nashville, donde grabó su último disco, «Daiquiri Blues» (2009).
«Delantera Mitica» está producido por el cantante y compositor Brad Jones, el mismo que realizó «Daiquiri Blues».
En «Delantera Mítica» han participado grandes músicos y compositores como como Bryan Owings (Emmylou Harris,  Buddy Miller), Will Kimbrough (Rosanne Cash, Guy Clark, Rodney Crowell, Steve Earle, Gomez, Emmylou Harris, The Jayhawks, Mark Knopfler, Buddy Miller, John Prine), Tyson Rogers (pianista de Toni Joe White, y nominado al Grammy como mejor dúo 2013 a la mejor canción que cantan Don Williams y Allison Krauss «I Just Come Here for the Music»), Lex Price (bajista de K.D Lang), y Chris Carmichael.
Quique González, también ha contado con la colaboración de Álex Muñoz a los coros y la vocalista jiennense Zahara en el tema «Las chicas son magníficas», César Pop y Leiva (Pereza) han colaborado en la composición de la música de algunos de los temas del disco.
Quique González versiona a Bob Dylan en «Is Your Love in Vain?», que  publicó originalmente en 1978 dentro de su disco «Street Legal».
Bob Dylan «Is Your Love in Vain».
El madrileño Quique González, uno de los mejores compositores nacionales, muy en la línea de Anotonio Vega y del desaparecido Enrique Urquijo de Los Secretos, su forma de cantar y sus letras afines a la tristeza y euforia, combinada con el Rock guitarrero más afilado del Southern Americano, el Folk, Country y el Blues en fantásticos discos como «Personal» (1998), «Salitre 48» (2001) y «La Noche Americana» (2005).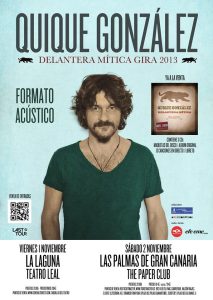 Escucha «Delantera Mítica» de Quique González.
Quique González «Delantera Mítica» tracklist.
1. Tenía que decírtelo
2. La fábrica
3. Dallas- Memphis
4.¿Dónde está el dinero?
5. Parece mentira
6. Las chicas son magníficas
7. Me lo agradecerás
8. Viejos capos
9. No encuentro a Samuel
10. No hagas planes
11.Delantera mítica
Quique González «Delantera Mítica», gira española 2013.
22 marzo – Sala Capitol – Santiago de Compostela
23 marzo – Laboratorio de las Artes – Valladolid
13 abril – Sala BBK – Bilbao
19 abril – Zahora Majestic – Ciudad Real
20 abril – Sala Noise – Valencia
26 abril – Teatro Paral.lel – Barcelona
27 abril – Teatro de las Esquinas – Zaragoza
02 mayo – Industrial Copera – Granada
03 mayo – París 15 – Málaga
04 mayo – Sala Anfiteatro – Cádiz
11 mayo – La Riviera – Madrid
17 mayo – Sala Metrópolis – Córdoba
18 mayo – Sala Custom – Sevilla
08 junio – Escenario Santander
15 junio – Círculo del Arte – Toledo
1 noviembre – Teatro Leal- La Laguna, Tenerife
2 noviembre – The Paper Club, Las Palmas de Gran Canaria