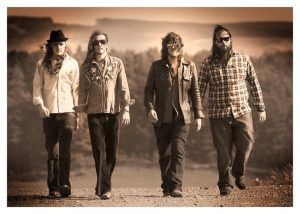 Buffalo Summer es un jóven cuarteto del País de Gales, que llevan casi tres años apostando por el Rock clásico de los años 70, con muchas dósis de Blues, Southern y una pizca de ritmo de Motown a sus canciones, como hacía el legandario James Jamerson en todas sus sesiones de los años 60.
Buffalo Summer debutaron con su disco homónimo de diez canciones, «Buffalo Summer» el pasado febrero de 2012, y quieren presentar su nuevo disco a la audiencia española con una primera gira, a partir del 31 de enero hasta el 9 de febrero, con nueve ciudades confirmadas, Bilbao, Santander, Orense, Cangas, Madrid, Valencia, Barcelona, Zaragoza y Monzón.
Escucha «A Horse Called Freedom» de Buffalo Summer.
Buffalo Summer quiere compartir con todos los lectores de Dirty Rock una pequeña entrevista en la que conoceréis más detalles sobre su música, sus nuevos proyectos, y sus cuatro músicos,  de la mano de Andrew Hunt (voz), Jonny Williams (guitarra), Darren King (bajo) y Gareth Hunt.
Buffalo Summer y su nuevo disco , desafían a los Riffs cortantes y Zeppelianos o sus adorados Free, Deep Purple o Lynyrd Skynyrd, pero siempre con la sensualidad funky en el ritmo, y su absoluto olfato para las melodías del Blues y Southern. «Down to the River» y «A Horse called Freedom», son dos declaracioes de intenciones, Rock épico y ya desvelando cada una de sus armas.
Escucha «Down to the River» de Buffalo Summer.
Notable trabajo de los galeses «Buffalo Summer», plasmado en diez canciones repletas de ecos optimistas de explosivo Rock setentero, Soul de la Motown y Southern desenfado, disco irresistible y no hay que perderlos de vista en directo.

Entrevista a Buffalo Summer
| | |
| --- | --- |
| 1. Can you describe us Buffalo Summer music? |  ¿Cómo describirías la música que hace Buffalo Summer? |
| The music is bluesy, classic rock with a modern fresh twist on things. I'd say the music is very song based and our sound is always underpinned by a sense of groove. A lot of that is from the Motown influences we have. We draw inspiration from many types of music, bands and art. |  Nuestra música tiene ese toque de Blues y Rock clásico con un giro moderno. Diría que nuestras canciones están basadas en nuestro sonido que tiene un sentido bastante asociado con el ritmo. Mucha influencia proviene del sonido Motown. Sacamos nuestra inspiracion de un montón de bandas, tipos de música y arte. |
| 2. Could you tell Spanish audience l Buffalo Summer musical background? |  ¿Podéis contar a vuestra audiencia en España, cómo empezásteis? |
| Well we have been together for only two years but we have known each other and been friends for a very long time. We particularly bonded over a lot of the 70s bands that we love like Led Zeppelin, Free, Lynyrd Skynyrd, Deep Purple. That sort of thing. | Buffalo Summer lleva dos años juntos desde su formación, aunque los cuatro componentes nos conocemos desde hace muchísimos años atrás. Todos tenemos en común toda esa música de los años 70, con bandas como Led Zeppelin, Free, Lynyrd Skynyrd o Deep Purple. |
| | |
| --- | --- |
| 3. Buffalo Summer album was issued Feb 2012, how long did you take to record it? | ¿Cuánto os llevó grabar vuestro nuevo disco homónimo «Buffalo Summer» presentado el pasado febrero de 2012? |
| Indeed it was. We actually self funded and self released this self titled debut album. We actually recorded the whole thing in five days as we wanted to capture that old school raw sort of vibe. | Si, nuestro disco fue publicado hace casi un año. «Buffalo Summer» fue financiado y editado por la propia banda. Grabado en cinco días, para captar esa crudeza en la grabación, como en los viejos discos. |
| 4. The Ten songs of your brand new and debut album, are influenced by whom and what do they talk about? | ¿Buffalo Summer y sus diez canciones, de qué hablan y de dónde procede la influencia a la hora de componerlas? |
| There are a core of mainly 70s British Rock bands we where draw influence from as we have already mentioned. We also love a lot of the groove and swagger which comes from Southern Rock. A lot of Darrens bass lines are Motown and Soul influenced so the songs always carry that type of groove that you can move too. Id say as an overall influence we would site Led Zeppelin and the Mrk III and IV line up's of Deep Purple which featured David Coverdale and Glenn Hughes. We all love the groove and attitude and amazing vocals that those guys brought to the musical table. Lyrically the songs are something of a mix. They address everything from personal stories of our lives through to environmental perspectives. For example, Down To The River looks at the destruction of the environment in pursuit of nothing but money. | El núcleo principal e influencia proviene de bandas de Rock británico de los años 70, como anteriormente os comenté. A Buffalo Summer nos encanta todo el ritmo y chulería que desprende el Southern Rock. Muchas de nuestras canciones tienen ese punto de Motown que provienen de nuestro bajista Darren King. Diría que nuestras principales influencias llegan de Led Zeppelin y la tercera y cuarta alineación de Deep Purple Mrk III y Mrk IV con David Coverdale y Glenn Hughes. Nos encanta toda esa actitud vocal y manejo en el escenario de esas bandas. Las letras de nuestras canciones son una mezcla de un todo, en cuanto a géneros. Nuestra canciones contienen experiencias personales, y por ejemplo la canción «Down to the River» habla de la destrucción del medio ambiente, en la búsqueda de nada por dinero. |
| 5. How was share stage with Duff McKagan, Ugly Kid Joe or Skid Row? | ¿Cómo fue acompañar encima de un escenario a Duff McKagan, Ugly Kid Joe o Skid Row? |
| To share the stage with these guys was a dream com true. Duff Mckagan is a legend of rock and is a legend of a man. He gave us a lot of his time and advice. The guys in his band Walking Papers were all top people and you couldn't have wished to have toured with a nicer bunch of guys | Compartir escenario con esta gente fue un sueño hecho realidad. Duff Mckagan (Guns N' Roses, Velvet Revolver, Izzy Stradlin, Jane's Addiction) es una leyenda del Rock que nos dió un montón de tiempo y consejos, al igual que los componentes de su banda de acompañamiento, los «Walking Papers». |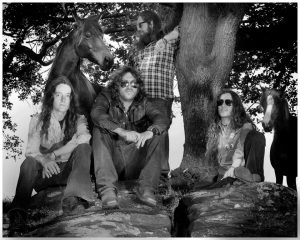 | | |
| --- | --- |
| 6. Where are you located now in Wales or England? And Which are the main differences between both countries in order to play, audiences, media. | ¿Dónde vive Buffalo Summer en el País de Gales? y ¿Cuáles son las principales diferencias entre Inglaterra y vuestro país en cuestión de música, conciertos, público o medios de comunicación? |
| We are Welsh and live near a city called Swansea in South West Wales. Although Wales and England are separate countries we are both part of the United Kingdom and and audiences and media are virtually the same. You do tend to find there are certain parts of the country though which love their rock more than other areas. It often tends to be working class areas like where we are from. | Somos galeses, y vivimos cerca de un pueblo de Swansea al sur del oeste del País de Gales. Virtualmente los medios de comunicación y el público es lo mismo, aunque seamos dos países diferentes, aunque pertenezamos al Reino Unido. Te das cuenta de que hay ciertas partes del país que se tiende a tener y querer más al Rock que en otras zonas. Normamente suele ser en zonas de clase trabajadoras, que es de donde provenimos. |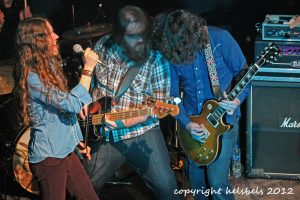 | | |
| --- | --- |
| 7. How are Buffalo Summer on the stage? Do you make cover versions? | ¿Cómo son Buffalo Summer encima de un escenario? y ¿Hacéis versones? |
| Onstage we just love to rock. We are there to entertain he audience and hope they have as much fun listening, as we do actually playing the songs. We spend our time writing our own songs but on rare occasions we may play song by Hendrix, The Black Crowes or Otis Redding. | En en escenario nos encanta divertirnos y rockear. Buffalo Summer está para entretener y divertir a su público. Raramente solemos hacer versiones, pero si lo hacemos tocamos canciones de Jimi Hendrix, The Black Crowes Otis Redding. |
| 8. What about a large European Tour and jump overseas as US or Australia? | ¿Para cuando una gran gira europea y hacer una gira por Estados Unidos o Australia? |
| That would be a dream come true for us. The focus though for the next year or so is to play the UK and Europe. Build a fanbase here and then w will start thinking further afield once the home territories have been completed. | Sería un sueño hecho realidad para Buffalo Summer. Nos centremos en tocar en el Reino Unido y en Europa este año. Construir un caldo de cultivo de fans y de ahí seguir adelante e ir conquistando musicalmente territorios. |
| | |
| --- | --- |
| 9. Do you have new material for your next album? | ¿Tenéis nuevo material en forma de canciones para un próximo disco de Buffalo Summer? |
| We have a new album written which we will be recording in autumn/winter time of 2013. We will be playing some of this new material for the Spanish audiences. | Tenemos prácticamente el nuevo disco escrito y preparado, y comenzaremos a grabar el próximo otóño e invierno de 2013. Buffalo Summer tocará nuevas canciones durante nuestra gira en España. |
| 10. What kind of music do you usually play? Any good song, record, band you lately like? | ¿Qué tipo me música escucháis todos vosotros en Buffalo Summer? ¿Alguna canción, disco o banda que os guste en estos momentos? |
| At home we all listen to a variety of music. My brother Gareth who is the drummer and Darren the bass player actually listen to a lot of Scandanavian Metal Bands and Prog bands. Myself and Jonny the guitarist listen to more blues based rock music. Hes a big Tom Petty and ZZ Top fan too. I listen to a lot of Marvin Gaye, Al Green, Stevie Wonder. One of my favourite albums of last year was The Russian Wilds by American Band Howlin' Rain. | En casa escuchamos mucha música variada. Mi hermano Gareth Hunt (batería) y Darren King (bajo), escuchan muchas bandas escandinavas de Metal y Rock Progresivo. Yo (Andrew Hunt, voz) y Jonny Williams (guitarra), escuchamos más Blues y Rock. Jonny es un gran fan de Tom Petty y ZZ Top. Y yo escucho mucho a MArvin Gaye, Al Green y a Stevie Wonder. Uno de mis disco favoritos que escuchado ultimamente ha sido el «The Russian Wilds» de los norteamericanos Howlin' Rain. |
| 11. Analog or Digital to record an album? | ¿Para grabar un disco en analógico o digital? |
| In an ideal world analogue everytime but it is very expensive and time consuming. You get such a warm and full sounding record with analogue. If we ever get the budget for it in the future we would love to record analogue | Lo ideal sería siempre en analógico, pero es muchísimo más cara y te tarda mucho más tiempo. Grabar en analógico obtienes mejores resultados. Con un presupuesto acorde en un futuro, nos encantaría grabar un disco en analógico. |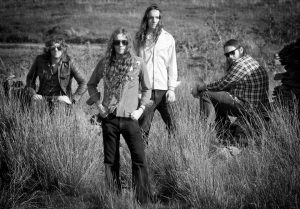 | | |
| --- | --- |
| 12. What are your expectations coming to Spain this first time? | ¿Qué esperáis de vuestra gira en España? |
| We know that Spain has a huge rock scene with super passionate fans and we just really look forward coming to your wonderful country to play some rock and roll for you. | Sabemos que en España se respira un gran ambiente de Rock, y que el público es muy apasionado, realmente estamos deseando tocar ya Rock & Roll para todos vosotros. |
| 13. Do you know Spanish Rock & Roll music, artist, etc? | ¿Conoce Buffalo Summer algún músico o artista español? |
| To be honest with you I don't know a great deal of Spanish rock bands but I have recently heard the band 77 who seem to be playing some great AC/DC styled music. Im looking forward to hearing some Spanish rock at our gigs as I believe there are Spanish artists opening for us a some shows | Para ser honesto, no conozco a ninguna banda de Rock en España, pero escuché a una banda llamada 77 que tocaba canciones similares a AC/DC. Esperamos escuchar música española durante nuestros conciertos y que alguna banda abra algunos de nuestros conciertos, creo que va a suceder. |
| | |
| --- | --- |
| 14. Is There anything you want to tell us we won't ask you? | ¿Hay algo que os gustaría decir y que no os hayamos preguntado? |
| Feel free to add us on facebook and come say hello. We also have a main website at www.buffalosummer.net | Pásate por nuestra página de facebook (https://www.facebook.com/buffalosummer) y nuestra web (www.buffalosummer.net) y dinos hola. |
| 15. Would you mind send Dirty Rock readers a message and encourage them to see you in your upcoming shows? | ¿Os gustaría enviar un mensaje a los lectores de Dirty Rock y encomendarlos a ver uno de vuestros conciertos? |
| To all he Dirty Rock readers, if you like your rock and roll down and dirty come and see us on the road. We look forward to rocking out with you and meeting you all in person. | A todos los lectores de Dirty Rock, si os gusta el sucio Rock & Roll, ven a vernos. Esperamos hacerlo contigo y conocerte en uno de nuestros conciertos. |
 Buffalo Summer gira europea y española 2013:
31 de enero de 2013: Bilbao, Sala Azkena
1 de febrero de 2013: Santander, Escenario Santander
2 de febrero de 2013: Ourense, Sala Berlin
3 de febrero de 2013: Cangas De Morrazo, Salason
5 de febrero de 2013: Madrid, Wurlitzer Ballroom
6 de febrero de 2013: Valencia, Loco Club
7 de febrero de 2013: Barcelona, Rocksound
8 de febrero de 2013: Zaragoza, La Ley Seca
9 de febrero de 2013: Monzón, Serjos Zona Rock