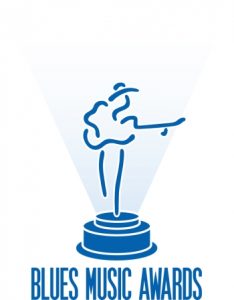 La trigésima cuarta edición de los premios de Blues, The 34th Blues Music Awards (los antiguos premios W.C Handy), organizados por The Blues Foundation, localizada en Memphis, tiene ya a sus nominados en sus diferentes categorías. Los premios se entregarán el próximo 9 de mayo en el Cook Convention Center en Memphis, Tennessee.
Esta edición de los premios Blues Music Awards cuenta con nominados del calibre de Gary Clark Jr., Heritage Blues Orchestra, Tedeschi Trucks Band, Magic Slim, Carolina Chocolate Drops, Eric Bibb, Big LLou Johnson, Bettye LaVette, Shemekia Copeland, Susan Tedeschi, Royal Southern Brotherhood, Robert Cray, Muddy Waters & Rolling Stones, The Lucky Peterson Band, Billy Boy Arnold, Bob Corritore, John Nemeth, Kim Wilson, Mark Hummel, Rick Estrin, Chuck Leavell, Joe Bonamassa o Eddie C. Campbell entre otros.
La  entrega de premios de la 34th Blues Music Awards Blues Awards BMA, está avalada por el The Blues Hall of Fame y por dicha fundación que es la que organiza desde hace 34 años los premios a los mejores discos del año como es The Blues Foundation, que cuenta con afiliaciones en más de 135 organizaciones relacionadas con el Blues y con miembros repartidos por más de 20 países.
The Blues Foundation se fundó en 1980, y está dirigida por un gabinete de 25 personas las cuales hacen valer la misión principal de la fundación es la de preservar la historia del Blues. Así mismo, esta fundación era la encargada de organizar los premios anuales W.C. Handy, los cuales se otorgan en reconocimiento a las mejores grabaciones e interpetaciones de blues de ese año, posteriormente, el premio cambió su nombre por The Blues Music Awards.
En la pasada edición de los premios BMA, la mayoría de premios recayeron en el magnífico y vigésimo sexto disco de Buddy Guy «Living Proof», obteniendo el de mejor disco de Blues del año, el prestigioso premio de «B.B King Entertainer of the Year», y mejor álbum contemporáneo.
Otros grandes triunfadores de los Blues Music Awards Blues Awards 2012, fueron el grandioso disco de The Nighthawks, «Last Train to Bluesville» con el multi instrumentista Percy Nelson de frontman, John Hammond, The Derek Trucks Band obteniendo merecidamente el premio a la mejor banda del año, Bob Stroger, Eddie Shaw, Sonny Rhodes, Ruthie Foster, Dr. John, Pinetop Perkins, Irma Thomas y Solomon Burke en diferentes categorías.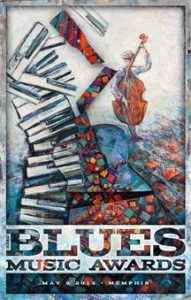 Los nominados este año a los Blues Music Awards Blues Awards 2013, son los siguientes:
Álbum acústico
Billy Boy Arnold Sings Big Bill Broonzy de Billy Boy Arnold
Blues on Solid Ground de John Primer
Deeper In The Well de Eric Bibb
Not Alone de Ann Rabson y Bob Margolin
Talking Guitar de Paul Rishell
Artista acústico
Carolina Chocolate Drops
Doug MacLeod
Eric Bibb
Harrison Kennedy
Paul Rishell
Álbum de blues
And Still I Rise de Heritage Blues Orchestra
Double Dynamite de The Mannish Boys
Show of Strength de Michael Burks
Son of the Seventh Son de Mud Morganfield
Stronger For It de Janiva Magness
Premio B.B King Entertainer
Curtis Salgado
Janiva Magness
Joe Louis Walker
John Nemeth
Rick Estrin
Mejor banda
Lil' Ed & the Blues Imperials
Phantom Blues Band
Rick Estrin & the Nightcats
Tedeschi Trucks Band
The Mannish Boys
Mejor álbum debut
24 Hour Blues de Charles "CD" Davis
They Call Me Big Llou de Big LLou Johnson
Turning On the Naughty de Paula Harris
Uphill From Anywhere de Brad Hatfield
Wanna Feel Somethin' de Mary Bridget Davies
Mejor álbum de blues contemporáneo
Blak & Blu de Gary Clark, Jr.
Blues Live de John Nemeth
Candy Store Kid de Ian Siegal & The Mississippi Mudbloods
Hellfire de Joe Louis Walker
Show of Strength de Michael Burks
Stronger For It de Janiva Magness
Artista femenina de blues contemporáneo
Bettye LaVette
Janiva Magness
Shakura S'Aida
Shemekia Copeland
Susan Tedeschi
Artista masculino de blues contemporáneo
Gary Clark, Jr.
Joe Louis Walker
Michael Burks
Robert Cray
Tab Benoit
Mejor DVD
The Lucky Peterson Band feat.Tamara Peterson Live at the 55 Arts Club Berlin
We Juke Up in Here: Mississippi's Juke Joint Culture at the Crossroads 
That's My Thing: Elvin Bishop Live In Concert de Elvin Bishop
Muddy Waters & Rolling Stones, Live at Checkerboard Lounge de Muddy Waters
Beacon Theatre – Joe Bonamassa Live From New York de Joe Bonamassa
Guitarrista del año
Derek Trucks
Joe Bonamassa
Joe Louis Walker
Kid Andersen
Michael Burks
Bajista del año
Bill Stuve
Bob Stroger
Patrick Rynn
Richard Cousins
Scot Sutherland
Willie J. Campbell
Baterista del año
Cedric Burnside
Cody Dickinson
Jimi Bott
Kenny Smith
Tony Braunagel
Armonicista del año
Billy Boy Arnold
Bob Corritore
John Nemeth
Kim Wilson
Mark Hummel
Rick Estrin
Trompetista del año
Al Basile
Big James Montgomery
Eddie Shaw
Sax Gordon
Terry Hanck
Koko Taylor Award (Artista femenina de blues tradicional)
Diunna Greenleaf
Jewel Brown
Maria Muldaur
Ruthie Foster
Tracy Nelson
Pinetop Perkins Award (Pianista del año)
Barrelhouse Chuck
Chuck Leavell
David Maxwell
Deanna Bogart
Mike Finnigan
Victor Wainwright
Álbum de rock-blues
Blues For The Modern Daze de Walter Trout
Driving Towards The Daylight de Joe Bonamassa
Everybody's Talkin' de Tedeschi Trucks Band
Here I Am de Nick Moss
Royal Southern Brotherhood de Royal Southern Brotherhood
Mejor canción
"I Wont Cry", incluida en Stronger For It de Janiva Magness
"Lemon Pie", incluida en 33 1/3 de Shemekia Copeland
"She Didn't Cut Me Loose", incluida en Soul Shot de Curtis Salgado
"The Devil Ain't Got No Music", incluida en The Devil Ain't Got No Music de Lurrie Bell
"Too Much Jesus (Not Enough Whiskey", incluida en Too Much Jesus (Not Enough Whiskey) de Mighty Sam McClain
Álbum de soul-blues
Blues Heart de Dorothy Moore
Soul Live de John Nemeth
Soul Shot de Curtis Salgado
Soul Survivor de Johnny Rawls
Too Much Jesus (Not Enough Whiskey) de Mighty Sam McClain
Artista femenina de soul blues
Barbara Carr
Denise LaSalle
Dorothy Moore
Irma Thomas
Sista' Monica
Artista masculino de soul blues
Bobby Rush
Curtis Salgado
John Nemeth
Johnny Rawls
Mighty Sam McClain
Álbum de blues tradicional
And Still I Rise de Heritage Blues Orchestra
Double Dynamite de The Mannish Boys
Milton Hopkins with Jewel Brown de Milton Hopkins with Jewel Brown
Son of the Seventh Son de Mud Morganfield
Spider Eating Preacher de Eddie C. Campbell
Artista de blues tradicional
Bob Margolin
John Primer
Lil' Ed
Magic Slim
Mud Morganfield