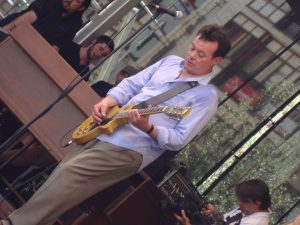 James Hunter y "Minute by Minute" será el quinto disco de estudio del cantente Soul y genio británico, que publicará el próximo 26 de febrero tras cinco largos años de su magnífico "The Hard Way" (2008), nuevo disco que contendrá doce nuevos temas del extraordinario James Hunter, con "Minute by Minute" y "Chicken Switch" como sus dos primeros adelantos.
James Hunter es otra de las debilidades de Dirty Rock, otro desconocido para la parroquia española, un hombre que compagina el soul más auténtico de Sam Cooke y los sonidos jamaicanos y Ska, pero en definitiva, puro y auténtico soul de vena hinchada.
Escucha "Minute by Minute" de James Hunter.
James Hunter interpretando su nuevo tema "Chicken Switch" de su próximo "Minute by Minute"
James Hunter graba por primera vez un disco "Minute by Minute" fuera de su Inglaterra natal, lo hace para la discográfica Daptone Records, propiedad de el genio Gabriel Roth, que ha producido discos para Amy Winehouse, Charles Bradley, Sharon Jones o Lee Fields entre otros, en su sede de Brooklyn en Nueva York.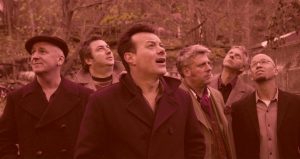 James Hunter fue descubierto por Van Morrison mientras el genio se encontraba en Londres y lo avió actuar en un pequeño club, a partir de ahí, Morrison colaboró en el disco debut de James Hunter en 1996 "…Believe What I Say" junto con otra grande del Soul, la "Mama Soul" y maravillosa Doris Troy.
James Hunter acompañó a Van Morrison durante su gira de 1994 que se rubricaría con el disco en directo "A Night in San Francisco" y participaría de nuevo en los coros y disco legendario de Van Morrison como fue "Days like this" en 1995.
"Kick it Around" (1999) y  especialmente "People gonna Talk" en 1999 suponen el reconocimiento del público norteamericano con una nominación de ese disco a los Grammy al mejor disco tradicional de Blues del año, aparición en numerosos programas de televisión y muchísimos conciertos acompañando a genios como Chris Isaak, Willie Nelson, Etta James o Aretha Franklin
James Hunter cantando "Minute by Minute".
En el nuevo disco de James Hunter colabora su banda habitual, la misma que pudimos ver en su soberbia actuación en la plaza de la Vírgen Blanca en el Azkena Rock Festival en el 2011, con The James Hunter Six, como le gusta llamarlo al Sam Cooke blanco con voz de negro, Damian Hand al saxo tenor, Lee Badau al saxo barítono, Jonathan Lee batería, Jason Wilson contrabajo, y Kyle Koehler al órgano, James Hunter a las voces y guitarra.
El nombre de James Hunter tomará una relevancia muchísima, después de su fichaje por Daptone Records, ya lo verán, comenzará tras la prublicación de su nuevo disco "Minute by Minute" el 26 de febrero una extensa gira por Estados Unidos y que culminará en marzo en el mejor festival de ese país en Austin, el SXSW.
James Hunter en el Azkena festival 2011, video playlist grabado por Dirty Rock Magazine.
El genial James Hunter, de cincuenta años,  os deslumbrará porque su música y sus portadas de discos desprenden ese olor a Rythm & Blues, Soul y Blues envejecido, de los años 50's y 60's, amante empedernido de la música de James Brown, aunque Sam Cooke y Wilson Pickett son sus otras dos referencias.
Gira española de The James Hunter Six, fechas confirmadas:
11 de abril, Bilbao, Kafe Antzokia
12 de abril, Madrid, Teatro Lara, "Pequeños Grandes Momentos 1906"
13 de abril, Santiago de Compostela, Teatro Capitol, "Pequeños Grandes Momentos 1906″.
13 noviembre Explosivo! Club, Zaragoza
14 noviembre Helldorado, Vitoria
15 noviembre Loco Club, Valencia
16 noviembre Teatro Circo, Cartagena
James Hunter "Minute by Minute" tracklist:
1. Chicken Switch
2. Minute By Minute
3. Drop On Me
4. Heartbreak
5. One Way Love
6. Goldmine
7. Let the Monkey Ride
8. The Gypsy
9. So They Say
10. Nothin' I Wouldn't Do
11. Look Out
12. If I Only Knew
Fotografías de James Hunter en el Azkena Rock festival, durante su actuación el día 25 de junio de 2011.