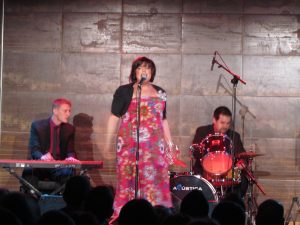 Hannah Williams and the Tastemakers presentaron su "A Hill of Feathers" gira europea 2013, en la Sala de Cámara del Teatro Leal de La Laguna. Con notable éxito, anticipado ya desde el lunes que habían agotado las entradas, la banda británica repasó su reciente trabajo, que puso a la venta en vinilo al término del concierto. La gran capacidad de la Sala permitió que nos reuniéramos allí bastantes más personas del aforo oficial de 150. Y el clima de Soul-Pop-Funk,  y por encima de todo, la portentosa voz de Hannah Williams, hizo que con frecuencia la gente se levantara de sus asientos para bailar, ovacionar a la cantante, o al requerimiento de ella.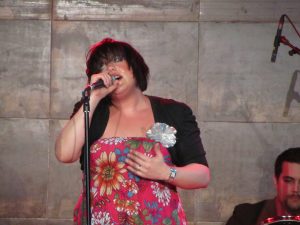 Hannah Williams sabe del respeto en el trato a las personas, "Don't treat me like dirt" dice en su último single, y su público para ella no es otra cosa: durante hora y media los mima, arrulla y anima sin descanso, uniendo una canción con otra, y con otra más. Una hora y media concentrada. Y hablando del trato, excelente el que Marcos Flores y Juan Carlos Baeza de Guassa Groove Productions, proporcionaron a Dirty Rock, facilitándonos el acceso a camerinos y artistas.
Los siete miembros de la banda que vinieron a la Isla -faltaron las dos coristas-, estaban puntualmente preparados y listos a la hora señalada, después de haber calentado voces, labios, dedos y muñecas en el camerino, pero hubo que esperar a que la gente subiera en ascensor a la Sala de Cámara situada en la quinta planta del Leal.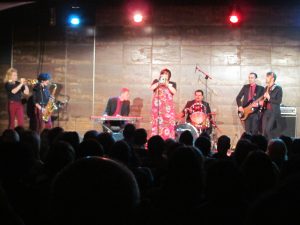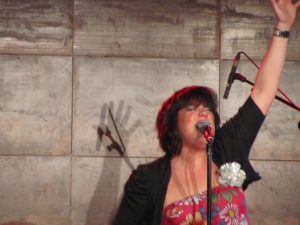 A la hora programada, se suben al escenario los seis componentes de The Tastemakers, ante una sala deseosa de degustar la plasmación de la obra de Hannah Williams, "A Hill of Feathers", pequeña intro instrumental, y a continuación, a la antigua usanza, la presentación a cargo del guitarra Hillman Mondegreen, "Please welcome to the stage Hannah Williams!!", Hannah Williams, trompeta en mano, y The Tastemakers como buenos lidiadores, clavaron con firmeza su calzado sobre el escenario.
Hannah Williams & The Tastemakers, lograron desde el comienzo infectar e incitar de diversión a todo el público, con ese todopoderoso llamado Soul, trasladando la sala literalmente hacia épocas doradas de la Stax o Tamla Motown.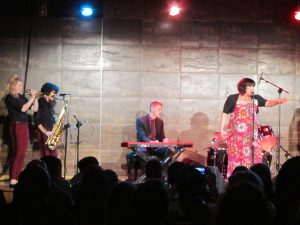 Hannah Williams, encinta de seis meses, conocía perfectamente aquello de que el Blues tuvo un hijo, lo llamaron Rock and Roll,  y el Gospel y el Rhythm Blues tuvieron otro que se llamó Soul, la noche y gira española dedicada su próximo vástago.
Hannah Williams & The Tastemakers, comenzaron la noche con "You Made us Change", canción que no aparece en el primer trabajo de la banda "A Hill of Feathers", a partir de entonces el grupo daba comienzo al azote divino de su música Rhythm & Blues, Soul Funk Pop,  y a desgranar el cancionero de su último trabajo, con temas de su próximo disco que está por publicarse a través del magnífico sello italiano Record Kicks.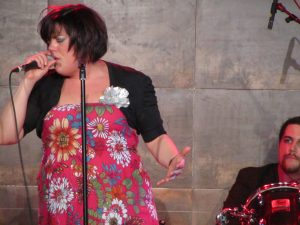 "I'm a Good Woman", versionando a la cantante y guitarrista tejana Barbara Lynn, "Things to come", "Tell me Something", "Don't Tell Me", "The Kitchen Strut" o "Get It" brillaron con luz propia tiñiendo completamente de negro la sala de cámara del Teatro Leal de La Laguna en Tenerife, con esa voz de negro de sesenta años.
Hannah Williams & The Tastemakers, tras el despilfarro de talento exhibido en el primer concierto de la gira española en Tenerife, con esa voz salvaje y de ira de Hannah Williams, que nos recordó en momentos a Big Maybelle, LaVern Baker, Ruth Brown, Janis Joplin, Dusty Springfield o a un mismísimo James Brown femenil, tras un segundo bis y descalza, regaló al público una última canción "directa al corazón" de todos nosotros, la versión de "At Last" interpretada por Etta James en 1961, una canción y concierto que pudimos disfrutar como si estuviésemos en una mecedora en el crepúsculo de un día veraniego.
Hanna Williams and The Tastemakers, brindó un recital sobrio, elegante y emocionado, cerrando una noche cálida y memorable.
Con la ayuda del Gobierno de Canarias y las entrada dos euros más cara, esta noche estarán en el Paper Club de Las Palmas de Gran Canaria. Y también esta noche, de nuevo en el Teatro Leal pero no en su Sala de Cámara sino abajo en el teatro, donde quizás debería actuado Hannah Williams con sus Tastemakers, tendremos a Dayna Kurtz.