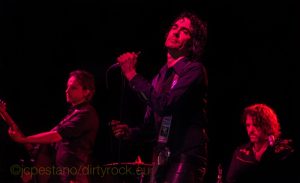 Un reportaje fotográfico de Juan Carlos Pestano (Dirty Rock) en Madrid
The Jon Spencer Blues Explosion
Venue: Sala But, Madrid
Fecha: viernes 8 de febrero de 2013
Fotos: ©jcpestano
The Jon Spencer Blues Explosion se presentaron en un frío Madrid,  el pasado viernes 8 de febrero en la Sala But, para presentarnos su último disco "Meat and Bone" tras ocho largos años de su anterior "Damager", un concierto que noqueó y dejó sin aliento a las mil quinientas personas que llenaban la sala.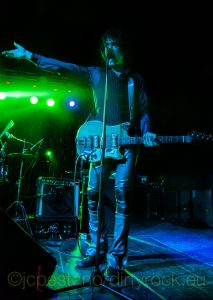 The Jon Spencer Blues Explosion salieron al escenario de la mano de Russell Simins, Judah Bauer y Jon Spencer, a dar una verdadera lección de como manejar el tiempo de Rock visceral, arrastrándolo hacia el Blues, Garaje, Punk y Rockabilly, ante la imposibilidad de escapar por los costados durante casi dos horas de rabia.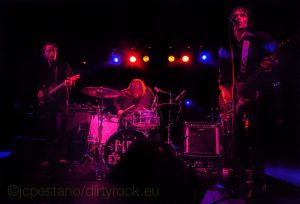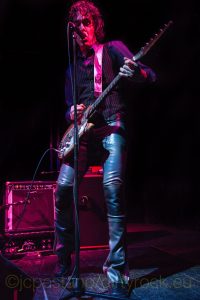 Tokyo Sex Destruction, desde Barcelona se tiraron a la piscina madrileña con su sonido y tormenta de sonidos negros de Punk, Garage y Psicodelina, vinieron a presentar su último trabajo "Sagitarius", producido por el propio grupo con la ayuda de Fernando Pardo (Sex Museum, Los Coronas) en el estudio Black Pepper.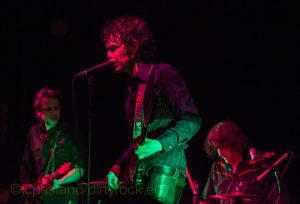 Tokio Sex Destruction con mucho nervio y vibrantes, sonaron rabiosos, dejando el ambiente propicio para los norteamericanos, los barceloneses son de los grupos que más han tocado fuera de España y eso se notó muchísimo, su nuevo disco es un reflejo de ello "Sagitarius" está totalmente grabado en analógico y es producto final es absolutamente candente.
Con la sala But llena, dos guitarras y un batería, The Jon Spencer Blues Explosion atacando al tuétano de todos nosotros "Meat and Bone" (Carne y Hueso), defendiendo a la perfección sus nuevas y viejas canciones, un bis final de más de media docena de canciones, clavando esa música negra y armonías a modo de sermón por parte de Jon Spencer, que le hace tan especial.
Si quieres escuchar "Meat and Bone" de The Jon Spencer Blues Explosion, pincha en este párrafo.
The Jon Spencer Blues Explosion sonaron en Madrid a esos dos maravillosos discos "Extra Width" (1993) o "Acme"(1998), continuos fogonazos uno detrás de otro, realmente viscerales y salvajes, hasta que el público se fue soltando y terminó en la parte delantera de la sala junto al escenario a sudar y dejarse la piel entre empujones y saltos de satisfacción.
The Jon Spencer Blues Explosion y su líder lo sintieron y agradecieron, gracias a un set directo y a las tripas, no se puede pedir más, hasta Russell Simins regalaba sus baquetas.
The Jon Spencer Blues Explosion
Venue: Sala But, Madrid
Fecha: viernes 8 de febrero de 2013
Fotos: ©jcpestano