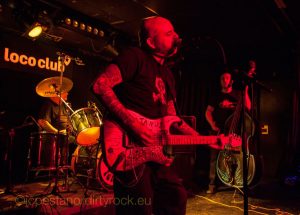 The Meteors insuflaron y transmitieron testosterona a toda alimaña viviente el pasado domingo 24 de febrero en el Loco Club de Valencia, a base de meteoritos sonoros neardentales de Psychobilly de la vieja escuela y mucha lluvia de alcohol.
The Meteors, una auténtica trituradora-apisonadora Rockabilly sobre el escenario, tocaron mejor que nunca, el trío inglés compuesto P. Paul Fenech, Simon Linden, y Wolfgang Hordemann, la aunténtica contestación europea de The Cramps.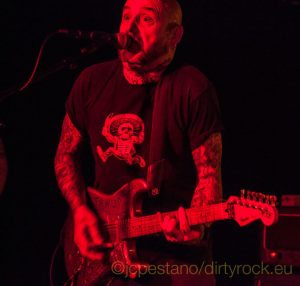 The Meteors hicieron caso omiso al título de su último disco "Doing The Lord's Work", y esperaron hasta el final para evocar su famosa batalla campal con el tema "Wreckin Crew", avivando las masas que van desde la Ribera Baixa hasta el Alto de Vinalopó.
The Meteors incrementaron los aullidos de parte de P. Paul Fenech, descargando una canción tras otra instantáneamente, los estampidos de los vasos llenos de alcohol rebotando en el suelo del Loco Club, creaban el ambiente propicio para su película de serie B y meteoritos, se mascaba tensión por momentos.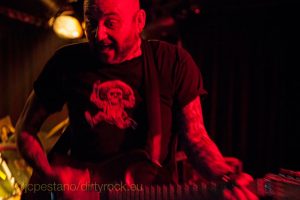 The Meteors entiende el Rock and Roll de esa forma, gravitando en exaltadas intensidades de Rockabilly, Country, Punk, Surf y Rock'n'Roll, la autoestima de todos los presentes mejoró tras el electrizante concierto de The Meteors, en su última cita de la gira española, ¡eficaces!.
Un reportaje fotográfico de Juan Carlos Pestano (Dirty Rock) en Valencia
The Meteors
Venue: Loco Club, Valencia
Fecha: domingo 24 de febrero 2013