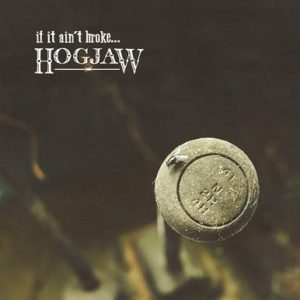 "If it Ain't Broke…"
Hogjaw, y "If it Ain't Broke…" , es el nuevo título del cuarto álbum de estudio del cuarteto norteamericano de Arizona, que estará disponible el 18 de junio y acompañado también de una nueva gira europea, española y norteamericana con su salvaje, arenoso y potente Rock Sureño, descendientes de los mejores Molly Hatchet.
Hogjaw lo componen Jonboat Jones (voz y guitarra), Elvis DD (bajo), Kreg Self (guitarra) y Kwall (voz y batería) y han publicado hasta el momento, tres magníficos discos "Devil in the Details" (2008),  "Ironwood" (2010), y "Sons of the Western Skies" (2012), tres discos realmente espectaculares en tan poco tiempo encontrar una buena discografía.
Hogjaw con un Jobboat Jones, y sus guitarras y batería a modo de huracán, han declarado la guerra, temas largos con partes instrumentales, arsenal compositivo de distinto pelaje, conviven en su Southern Rock, el Country, Bluegrass y el Rock más aniquilador, para nosotros de las mejores bandas de Rock Sureño en la actualidad, no hay más que escuchar su primer disco y "Rollin Thunder", "Blacktop", "County Line" o "El Camino", para entenderlos.
Escucha "If it Ain't Broke…" de Hogjaw.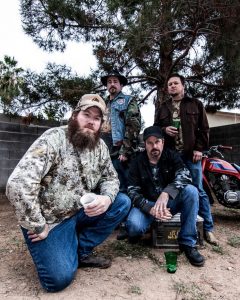 El nuevo disco de Hogjaw "If it Ain't Broke", lo componen diez nuevas canciones, del que puedes escuchar escuchar a continuación dos nuevos temas "One More little More" y "Built Me a Prize".

Fechas de la gira española de Hogjaw 2013 "If it Ain't Broke".
17/09/13 Llodio – Keska Taberna
18/09/13 Lierganes – Los Picos
19/09/13 A Coruna – Mardi Gras
20/09/13 Cangas – Salason
21/09/13 Aviles – Centro Niemeyer
22/09/13 Leon – Gran Café
23/09/13 Cadiz – Sala Supersonic
24/09/13 Estepona – Louie Louie
25/09/13 Murcia – Sala B
26/09/13 Madrid – La Boite
27/09/13 Zaragoza – La Ley Seca
28/09/13 Barcelona – Rocksound
29/09/13 Torredembarra – La Traviesa
30/09/13 Las Palmas de Gran Canaria- 3×1 (cancelado)
01/10/13 Castellon – Pub d'Leyend
02/10/13 Lleida – Stones Pub
Hogjaw son el cóctel e injerto perfecto de Molly Hatchet, ZZ Top y Black Oak Arkansas, les encanta las armas, la caza, el buen beber, el whiskey, el tequila, el bacon y panceta cortada bien gorda (Hog Jaw)  las camionetas y las mujeres, ¿se puede ser más macarra?
Tracklist del nuevo disco de Hogjaw, "If it Ain't Broke".
One More Little One
Built my Prize
Am I Wrong?
Shinny Brass
Cold Dead Fingers
The Wolf Part I
The Wolf Part II
Devil's Eyes
'83
Beer Guzzlin' Merican