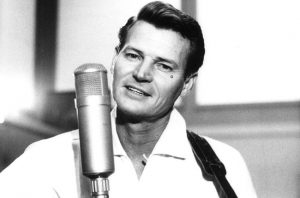 Claude King, cantante de Country y músico de sesión de la famosa emisora de radio y televisión en Louisiana, Louisiana Hayride, ha muerto a la edad de 90 años el pasado 7 de marzo, su canción «Wolverton Mountain» lo catapultó a la fama en 1962.
Claude King grabó seis álbumes de estudio, pero se le recordará por formar parte del elenco de músicos que componían uno de los programas de radio pioneros en la música Country de Estados Unidos, el programa llamado Louisiana Hayride, y que sirvió para promocionar y transformar el género Country en otros subgéneros a todo el país como el Western Swing, Hillbilly, Jazz, Blues y Gospel desde que comenzaran en 1948, en la ciudad de Shreveport, en el estado de Louisiana.
Escucha «Wolverton Mountain», de Claude King.
La importancia del programa de radio Louisiana Hayride, es mayúscula en la historia del Country y del Rock & Roll porque artistas desconocidos en aquella época se hicieron muy famosos a partir de su aparición en dichos programas de radio primero y televisión después, Claude King participó en la mayoría de la actuaciones, atentos a los nombres Hank Williams, Webb Pierce, Kitty Wells, Jimmie Davis, Will Strahan, Slim Whitman, Floyd Cramer, Sonny James, Hank Snow, Faron Young, Johnny Horton, Jim Reeves, Claude King, Jimmy Martin, George Jones, John and The Three Wise Men, Johnny Cash, Frankie Miller, Tex Ritter, Nat Stuckey, o Lefty Frizzell, entre otros.
Una de las fechas históricas del programa de radio Louisiana Hayride, surgió un 16 de octubre de 1954, un joven desconocido llamado Elvis Presley que cantaba Rockabilly, apareció en un programa de radio norteamericana por primera vez, aquel día sonó "That's All Right Mama", por primera vez entre otras canciones, lo demás ya es historia.
Extracto de la entrevista a Elvis Presley en 1954.
Descanse en paz Claude King.
"Another goodbye to another good friend"
Escucha una recopilación de los mejores artístas que pasaron por Louisiana Hayride, y en el que Claude King era músico.