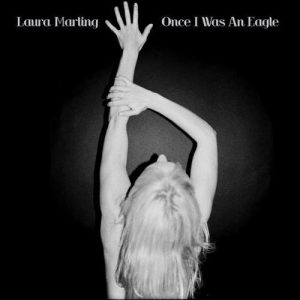 Laura Marling, cantante y compositora Folk Rock británica publica su cuarto y nuevo álbum titulado Once I Was An Eagle, el próximo 28 de mayo.
Once I Was An Eagle, es un disco compuesto por dieciseis canciones y en el que presenta «Where Can I Go?», como su primer adelanto.
Laura Marling es un jovena cantautora inglesa de 23 años, que debutó con dieciocho años con el disco Alas, I Cannot Swim (2008), y dos años más tarde con I Speak Because I Can, ambos discos nominados a los premios Mercury Music Prize, premio similar al BRIT Awards.
La consagración de Laura Marling llegaría con su tercer disco A Creature I Don't Know, disco producido por el hijo del genial productor británico Glyn Jones, Ethan Jones (Ryan Adams, Kings of Leon, Ray LaMontagne, Káiser Chiefs, etc), y en el que se la empezaba a comparar con Joni Mitchell o Fiona Apple.
Escucha «Master Hunter» de Laura Marling.
Laura Marling y su música ofrece pinceladas de Jazz, Folk, Country y Blues, más cercana a The Tallest Man On Earth o Micah P. Hinson,, su nuevo disco Once I Was an Eagle, se grabó en directo y en diez días.
Escucha «Once I Was an Eagle» de Laura Marling.
Laura Marling, Once I Was an Eagle, Tracklist
01. Take The Night Off
02. I Was An Eagle
03. You Know
04. Breathe
05. Master Hunter
06. Little Love Caster
07. Devil's Resting Place
08. Interlude
09. Undine
10. Where Can I Go?
11. Once
12. Pray For Me
13. When Were You Happy? (And How Long Has That Been)
14. Love Be Brave
15. Little Bird
16. Saved These Words