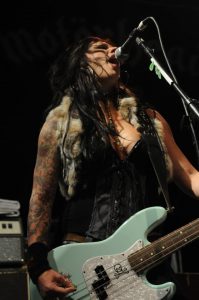 Karen Cuda, la bajista del grupo norteamericano Nashville Pussy, deja la banda tras ocho largos años y dos discos en su haber, «Dirty Best Of Nashville Pussy» (2005), un DVD «Live in Hollywood» (2008), y el directo «From Hell to Texas» (2009)
Karen Cuda, ha sido la cuarta bajista de los de Atlanta,  Nashville Pussy, tras Katielyn Campbell, Tracy Almazan y Corey Parks.
Nashvile Pussy es un alocado grupo de Rock Blues y Cow Punk, con ráfagas de Southern,  Hard Rock setentero y hasta Psychobilly desde Atlanta en Georgia, imaginaos a dos tipos duros y dos hermosas mujeres gimiendo por esa boca y sudando aguardiente, guitarras llenas de adrenalina, contoneos sexuales, pelos pegajosos y música de alto octanaje.
Karen Cuda, se formó musicalmente en la Metro State College de Denver sobre teoría musical, y realizó labores de enseñanza para la Universidad de Colorado.
En Denver fue la fundadora de la banda Hemi Cuda, publicando dos álbumes «Classics for Lovers» (2004) y «Thick Riffs & Tasty Licks» (2006).
Concierto completo de Nashville Pussy «Live in Hollywood» (2008).
Karen Cuda,  es la actual profesar de música de dos escules School Of Rock Denver y School Of Rock Littleton, en la que da clases a niños entre 4 y 5 años de edad.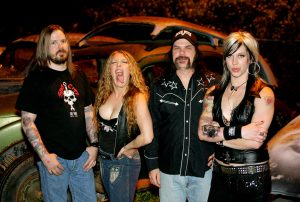 Karen Cuda compaginaba sus giras y trabajos con Nashville Pussy y el guitarrista norteamericano Eric McFadden, Karen deja la banda para centrarse en futuros proyectos musicales.