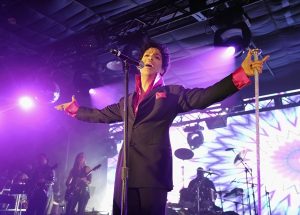 Prince acaba de anunciar las primeras fechas de una gira mundial que comienza el próximo día 15 de abril en Vancouver, Canadá y que recorrerá pequeños clubs del medio oeste norteamericano y varias ciudades europeas como Montreux, Estocolmo y Skanderborg en Dinamarca, acompañado de su nueva banda 3rd Eye Girl.
Prince clausuró recientemente  el festival de Austin, SXSW, escoltado con miembros de The New Power Generation, y en el que interpretó sus grandes clásicos y versiones de sus idolatrados James Brown o Curtis Mayfield, en un concierto realmente memorable de dos horas y cuarenta minutos, según cuentan los medios de comunicación norteamericanos.
Prince tiene cerradas casi una veintena de conciertos desde el 15 de abril hasta el 8 de mayo, recorriendo ciudades como Las Vegas, Phoenix, Anaheim, San Francisco, San Diego, Vancouver, o Seattle, todas ellas en club de reducidas localidades,  además en verano tiene confirmadas actuciones en Europa, como en el Montreux Jazz Festival, en Suiza, los días 13, 14 y 15 de julio, Estocolmo en Suecia el 4 de agosto y el 7 de agosto en Skanderborg, Dinamarca, todas ellas en festivales.
Prince ha presentado oficialmente dos temas de su presumible nuevo disco, "Rock and Roll love Affair" y "Screwdriver", escoltado por su nueva banda, las 3rd Eye Girl, compuesta por tres mujeres Donna Grantis a la guitarra, Ida Nielsen al bajo y Hanna Ford a la batería, tras estar con su anterior formación The New Power Generation más de dos décadas.
Primeras fechas de la gira mundial de Prince World Tour 2013.
04/15 – Vancouver, BC @ The Vogue (Early Show)
04/15 – Vancouver, BC @ The Vogue (Late Show)
04/16 – Vancouver, BC @ The Vogue (Early Show)
04/16 – Vancouver, BC @ The Vogue (Late Show)
04/18 – Seattle, WA @ Showbox (Early Show)
04/18 – Seattle, WA @ Showbox (Late Show)
04/19 – Seattle, WA @ Showbox (Early Show)
04/19 – Seattle, WA @ Showbox (Late Show)
04/23 – San Francisco, DNA Lounge (Early Show)
04/23 – San Francisco, DNA Lounge (Late Show)
04/24 – San Francisco, DNA Lounge (Early Show)
04/24 – San Francisco, DNA Lounge (Late Show)
04/26 – Las Vegas, NV @ The Joint (Early Show)
04/26 – Las Vegas, NV @ The Joint (Late Show)
04/27 – Las Vegas, NV @ The Joint (Early Show)
04/27 – Las Vegas, NV @ The Joint (Late Show)
04/30 – Phoenix, AZ @ The Marquee (Early Show)
04/30 – Phoenix, AZ @ The Marquee (Late Show)
05/01 – Phoenix, AZ @ The Marquee (Early Show)
05/01 – Phoenix, AZ @ The Marquee (Late Show)
05/03 – San Diego, CA @ Hard Rock Hotel (Early Show)
05/03 – San Diego, CA @ Hard Rock Hotel (Late Show)
05/04 – San Diego, CA @ Hard Rock Hotel (Early Show)
05/04 – San Diego, CA @ Hard Rock Hotel (Late Show)
05/07 – Anaheim, CA @ The Grove (Early Show)
05/07 – Anaheim, CA @ The Grove (Late Show)
05/08 – Anaheim, CA @ The Grove (Early Show)
05/08 – Anaheim, CA @ The Grove (Late Show)
07/13 – Montreux, CH @ Montreux Jazz Festival
07/14 – Montreux, CH @ Montreux Jazz Festival
07/15 – Montreux, CH @ Montreux Jazz Festival
08/04 – Stockholm, SE @ Stockholm Music & Arts Festival
08/07 – Skanderborg, DK @ Smuckfest