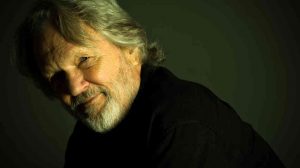 Kris Kristofferson publicó "Feeling Mortal", vigésimo primer disco de estudio el pasado mes de enero, bajo la producción de nuevo de Don Was, tras su magnífico "Closer to the Bone" (2009), del que se rodeó de lo mejor en aquel momento Jim Keltner, Rammy Jaffee, Stephen Bruton y el propio Don Was.
"Feeling Mortal" podría implicar el último disco de su carrera, pero la evidencia dice lo contrario, un álbum de diez canciones en el que vuelve a sorprender como siempre Kristofferson con un trabajo sin alardes vocales y técnicos, el "Highwaymen" pone letra y grandísima voz de mormón tal cual ofreciendo su ofrenda hacia nosotros.
Escucha "Feeling Mortal" de Kris Kristofferson.
Nos ocurre como a Bob Dylan o Johnny Cash, tienes que dejarlo todo para poder escuchar a Kris Kristofferson, su voz y sus letras te conduce hacia ese camino empedrado y lleno de obstáculos, esa es la música que ama la estrella errante de Brownsville en Texas, como bien cuenta en "Castaways".
Kris Kristrofferson se cubrió las espaldas para realizar su nuevo disco "Feeling Mortal", de Greg Leisz, Aaron Sterling,  Mark Goldenberg, Sean Hurley, Matt Rollings y Sarah Watkins.
Kris Kristrofferson, actor, compositor e hijo de militar, creció bajo la sombra del Country y los caballos, ganador de un Globo de Oro al mejor actor por "Ha nacido una estrella" (1976), obrero de la construcción, profesor militar de Literatura Inglesa en la Academia Militar de West Point, piloto de helicópteros en plataformas petrolíferas en el Golfo de Méjico.
Kris Kristrofferson pertenece al Songwriter's Hall of Fame y el Nashville Songwriter's Hall of Fame de Nashville, ha ganado el premio Grammy en tres ocasiones, y recibido varios galardones junto a los Highwaymen (su grupo con Johnny Cash, Willie Nelson y Waylon Jennings), el 2001 Diversity Award, y este mismo año ha sido nombrado Veterano del Año por la American Veterans Association.