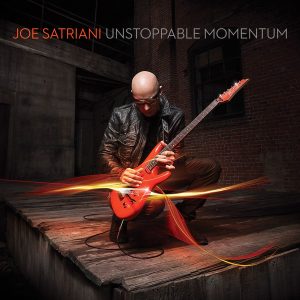 Joe Satriani uno de los grandes guitarristas instrumentales,  publica su décimo cuarto álbum de estudio el 7 de mayo, bajo el nombre de "Unstoppable Momentum" junto a su amigo el filántropo, guitarrista y productor neoyorquino Steve Vai.
Joe Satriani anuncia también gira europea durante los meses de mayo, junio y julio, repartidos en cuarenta y tres ciudades, sin ninguna fecha en España.
La gira europea del neoyorquino Joe Satriani, afincado en San Francisco, comienza el próximo 18 de mayo en Estambul hasta el 13 de julio, recorriendo Rumanía, Hungría, Croacia, Serbia, Italia, Francia, Bélgica, Holanda, Inglaterra, Escocia, Alemania, Austria, República Checa, Polonia y Rusia.
"A Door into Summer", primer adelanto de Joe Satriani.
"Unstoppable Momentum" de Joe Satriani, está producido por Mike Fraser (AC/DC, Aerosmith, Elvis Costello o Sepultura).
Nuevo vídeo de Joe Satriani "Lies and Truths".
Escucha "Unstoppable Momentum" De Joe Satriani.
Joe Satriani, tiene en su haber más de 15 nominaciones a los premios Grammy's, más de diez millones de discos vendidos, multiinstrumentista, exquisito en la técnica de la guitarra (tapping a dos manos, sweep picking, etc), influenciado por los más grandes como Jimi Hendrix, Billy Gibbons, Jeff Beck o Jimmy Page, ha tenido en sus brazos a alumnos como Kirk Hammett de Metallica, Larry LaLonde y Larry LaLonde de Primus o Kevin Cadogan de Third Eye Blind entre otros.
Una buena manera de comenzar a conocer a este magnífico guitarrista es por sus álbumes "The Extremist" (1992) y "Surfing with The Alien" (1987).
Joe Satriani "The Extremist" (1992)
Joe Satriani "Surfing with The Alien" (1987)
"Unstoppable Momentum" tracklist de Joe Satriani.
1. Unstoppable Momentum
2. Can't Go Back
3. Lies And Truths
4. Three Sheets To The Wind
5. I'll Put A Stone On Your Cairn
6. A Door Into Summer
7. Shine On American Dreamer
8. Jumpin' In
9. Jumpin' Out
10. The Weight Of The World
11. A Celebration