Band Of Friends, por segundo año consecutivo vuelven a nuestro país la banda tributo a uno de los mejores guitarristas, posiblemente poco valorado, de blues de todos los tiempos. Hablamos del irlandés tristemente fallecido allá por el año 95 a la corta edad de cuarenta y siete años… el Sr. RORY GALLAGHER.
Band of Friends, banda que rinde tributo a este gran genio de la guitarra la componen dos de los miembros que compartieron, casi en toda su totalidad, gran parte de su carrera.
El bajista Gerry McAvoy, estuvo junto a Rory nada más que veinte años desde el 71 hasta el 91, el batería Ted Mckenna fue compañero del irlandés desde el 78 hasta el 81 junto con Marcel Scherpenzeel que intenta asemejar la imagen del desaparecido Gallagher constituyen BAND OF FRIENDS.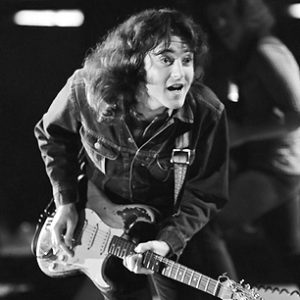 Sus directos intentan transmitir el espíritu inigualable que plasmaba Rory, difícil…¿verdad?.
El caso es que, como era de esperar no llega a la altura del temperamento que imponía el irlandés pero aquel que decida ir a alguno de sus conciertos tiene que tener bien claro que BAND OF FRIENDS lo único que pretende es dar a conocer la música en directo de Rory a aquellos que no pudimos presenciarlo en vivo y hacernos una idea de la fuerza de sus conciertos. Concierto recomendable para disfrutar del legado que nos dejó RORY GALLAGHER.
Gira españóla de Band of Friends 2013
30 MAYO BARCELONA SALA RAZZAMATAZZ
31 MAYO VALENCIA WAH WAH CLUB
1 JUNIO MADRID SALA CARACOL