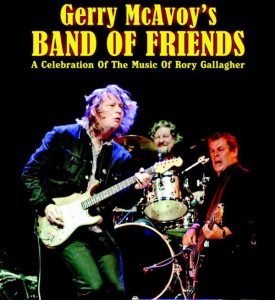 Siendo muy joven y aún escuchando retazos del "Tattoo You" (1981) y el "Undercover" (1983) de The Rolling Stones a principios de los años 80, descubría a Rory Gallagher.
El de las camisas de leñador, testarudo, insaciable y maravilloso guitarrista irlandés, Rory Gallagher estuvo muy cerca de pertenecer a The Rolling Stones.
Eso ocurría a finales de 1974, después de que definitivamente el asombroso Mick Taylor tuviese muchísimos problemas con las drogas durante la gira europea The Rolling Stones European Tour 1973 y durante la grabación del It's Only Rock 'n' Roll en 1974, en el que estuvo ausente en muchísimas sesiones durante la grabación del mismo.
En diciembre de 1974 Mick Taylor dejaba The Rolling Stones, después de haber tenido muchísimos problemas con las drogas que arrastraba desde hacía unos años, durante su gira de 1973 The Rolling Stones European Tour 1973 y la grabación de su siguiete disco "It's Only Rock 'n' Roll" (1974).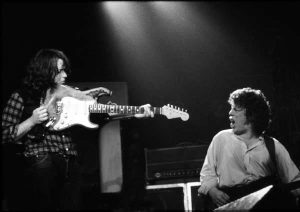 Los problemas con los narcóticos eran más que evidentes, ausencias en las sesiones de grabación, broncas con Keith Richards y sus desavenencias con Mick Jagger y Keith Richards por no aparecer como co-autor de las grandiosas canciones como "Time Waits for No One" y "Till the Next Goodbye".
En enero de 1975 Rory Gallagher recibía una llamada de los Rolling Stones desde La Haya en Holanda para probarlo como posible sustituto de Mick Taylor, las sesiones de grabación duraron dos días y tanto Jagger y Richards pedían tiempo a Gallagher para tomar una decisión al respecto.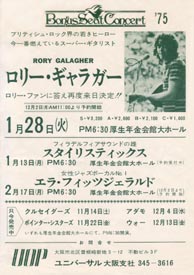 Rory Gallagher testarudo e impetuoso como siempre, no quería dejar en la estacada a sus fans japoneses, que lo esperaban ese mismo mes de enero en tierras niponas, el irlandés tras dos días de grabaciones prefirió marcharse a Japón que esperar por la respuesta de The Glimmer Twins, del 26 de enero hasta el 31 de enero de 1975 presentaba en Japón su último disco "Irish Tour' 74" junto a su inseparable bajista Gerry McAvoy.
Rory Gallagher y su brutal "Who's That Coming" en el que auna el Rock Sureño con el Blues del Delta.
Tres años más tarde otro joven escocés, el batería Ted McKenna se uniría a la banda de Rory Gallagher para grabar tres magníficos álbums "Photo-Finish" (1978), "Top Priority" (1979) y  el disco en directo "Stage Struck" (1980), discos en el que se prescindiría de los teclados como al principio de la carrera de Gallagher y se volvía a la crudeza y sonido más punzante, guitarra, bajo y batería, no hay nada más que escuchar "Bruce Force & Ignorance" para darse cuenta de ello, ¡¡obra maestra!!.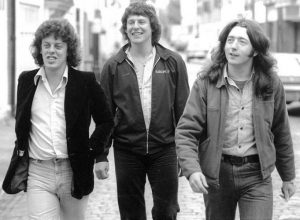 Pues en España tendremos a Gerry McAvoy (bajo), Ted McKenna (batería) y el holandés Marcel Scherpenzeel (guitarra) para celebrar toda esa pasión por el Blues, Folk, Jazz y Rock and Roll del legado Rory Gallagher.
Un músico que no necesita presentación a estas alturas, uno de los más grandes e influyentes de la historia, el oleaginoso y vertiginoso de dedos con su maravillosa guitarra desgastada, y que a "Un millón de millas" (A Million Miles Away) en el viejo continente cambiaría el signo del Blues-Rock durante varias décadas, como hicieron los precursores del Delta decenas atrás, un blanco con corazón negro.
Rory Gallagher y su "Tattoo'd Lady", puro rock'n'roll, con ironía y humor en su letra.
Después de pilotar su primera banda Taste desde 1969 hasta 1972 con cuatro álbumes, formaría Rory Gallagher a partir de 1971 con su secundario Gerry McAvoy y Wilgar Campbell, a partir de ahí sus dedos y voz cimentarían variao discos y obras maestras que están ya de por si en la historia del Rock & Roll, "Rory Gallgher", "Deuce", su grandioso directo "Live in Europe", "Calling Card", "Tattoo" y el directo de McAvoy y Mckenna "Stage Struck".
El alcohol iría poco a poco destrozando su hígado y carrera, a pesar de considerársele un tipo huraño y testarudo, en el escenario era pura pasión y garra, no hay más que ver como han quedado sus guitarras y sus camisas de leñador.
Puro Rock and Roll con "Cradle Rock"
Su miedo a coger aviones influiría en su salud, ingesta masiva de fármacos para evitar los miedos, hasta que su hígado no aguantó más a mediados de los años 90, se le realizó un transplante, pero con sólo 46 años nos decía adiós en 1995.
Recuerdo que lo primero que quería visitar en Irlanda hace unos años era la esquina de Gallagher, Rory Gallagher Corner en Temple Bar con la réplica de la Fender Stratocaster de bronce, por cierto Fender le rinde tributo con un modelo suyo basado en su original, muy valorado por músicos y coleccionistas.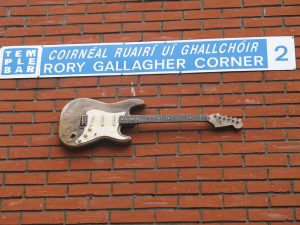 Rory Gallagher fue junto a Van Morrison en abrir el camino en Irlanda a grandes como Thin Lizzy o U2, y por supuesto está considerado uno de los guitarristas de Blues eléctrico más grandes de la historia.
Cuando pienso en Gallagher me vienen a la cabeza numerosas cosas y nombres como Elmore James, Duane Allman, Jimi Hendrix, The James Gang, la mejor época de Status Quo, pero uno de ellos es el gran Rosendo Mercado, auténtico apoderado del sonido Gallagher del Rock en Castellano,  puedes leer nuestro articulo del concierto de Rosendo en Vencindario el pasado 31 de marzo de 2012.
"Million miles away, I'm a million miles away, I'm sailing like a driftwood on a windy bay, Why ask how I feel, well, how does it look to you?, I feel hook line and sinker, I lost my captain and my crew, I'm standing on the landing and there's no one there but me, That's where you'll find me, looking out on the deep blue see."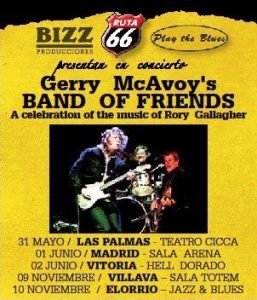 Fechas de la gira en España Gerry McAvoy "Band of Friends" A Celebration of The Music of Rory Gallagher:
31 de mayo, Las Palmas de Gran Canaria, Teatro Cicca.
1 de junio, Madrid, Sala Arena.
2 de junio, Vitoria, Hell Dorado.
14 de julio, Béjar, Béjar Blues Festival.
9 de noviembre, Pamplona, Sala Totem.
10 de noviembre, Elorrio, Ateneo Arriola.
Rory Gallagher y su "A Million Miles Away".
Gerry McAvoy "Band of Friends" A Celebration of The Music of Rory Gallagher are touring Spain.
There are many tribute bands playing the music of Rory Gallagher some good some not so good but what they are doing is keeping the music of this great musician alive. Rory's music reached a massive audience from Norway to Spain, from Japan to the USA, Covering all parts of the globe and producing some of the greatest rock/blues albums of the 60's 70,s and the 80, s. sadly we lost Rory on June 14th 1995, to his devoted fans and followers this was the ultimate tragedy
The BAND OF FRIENDS is not a tribute to Rory more a celebration of his life and music. The band consists of musicians who played with Rory throughout his career.
GERRY McAVOY (Bass Guitar) played with Rory for 20 years; from 1971 to 1991 and because of this has a great insight into the man and his music. Gerry played on every album Rory ever made. He also wrote a book following his career which was published in 2005. "RIDING SHOTGUN" "ON THE ROAD" its German title. www.ridingshotgun.co.uk. (Deep Joy/Champion Jack Dupree/Rory Gallagher Band/Nine Below Zero)
TED McKENNA (Drums) played with Rory from 1977 to 1981. Ted is a rock drummer's drummer. He has played with numerous rock legends and has recorded some of the top albums of our time. (Teargas/The Sensational Alex Harvey Band/Rory Gallagher Band Greg Lake/Gary Moore/Michael Schenker Band)
MARCEL SCHERPENZEEL (Guitar) grew up with Rory's music and Gerry is quoted as saying "This is the closest guitarist to Rory you will ever hear" Marcel still plays with his band Wolfpin. (Wolfpin)
So as you can see this is not a tribute band. This is THE BAND