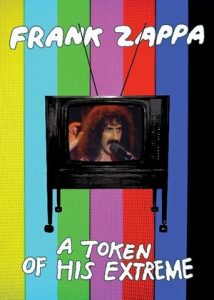 Frank Zappa "A Token of His Extreme" es el programa creado para la televisión por Frank Zappa que nunca vió la luz en Estados Unidos en 1974, será publicado oficialmente en DVD el próximo 4 de junio.
Frank Zappa grabó aquel exclusivo programa de televisión, "A Token of His Extreme", en los estudios de la cadena independiente KCET, en Burbank, cerca de los Angeles, un 27 de agosto de 1974 con Frank Zappa, guitarra, percusión y voz, George Duke, teclados, pandereta y voz, Napoleon Murphy Brock, saxo y voz, Ruth Underwood, percusión, Tom Fowler, bajo, y Chester Thompson, batería.
Hay varios DVD's y discos oficiales y piratas en el mercado, pero ninguna como el que edita el próximo 4 de junio con nuevas imágenes de la grabación y audio masterizado por Bob Ludwig.
"The Dub Room Special!" es la versión oficial de aquel concierto con algunas canciones de "A Token of His Extreme", y un documental sobre el propio Frank Zappa en el concierto de Halloween en 1981 en el New York Palladium.

Setlist de "A Token of His Extreme", programa de televisión de Frank Zappa.
1. Dog Meat
2. Montana
3. George Freak Out
4. Florentine Pogen
5. Stinkfoot
6. Pygmy Twylyte
7. Room Service
8. Inca Roads
9. Oh No
10. Son of Orange County
11. Trouble Every Day
12. A Token of my Extreme
13. The Dog Breath Variations/Uncle Meat