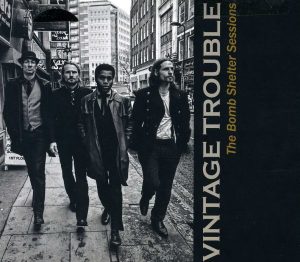 Vintage Trouble es un cuarteto norteamericano que publicó «The Bomb Shelter Sessions» en el 2011, dos años después, y tras estar de gira por medio mundo, el éxito y popularidad llama a su puerta, con esa fiereza combinando Rhythm & Blues, Rock Blues y Soul, a los Eddie Hinton, Mick Jagger, Wilson Pickett, Ray Charles o James Brown a través de su líder y cantante Ty Taylor.
Vintage Trouble es mucho más que Soul sureño, tienen Rock & Roll, y su disco «The Bomb Shelter Sessions», compuesto por diez canciones, en el que sus cuatero procedente de la ciudad de Los Angeles compuesto por Ty Taylor, Nalle Colt, Rick Barrio Dill y Richard Danielson, es esa melaza de Soul y rocanrol que te lame y castiga el corazón con temas como «Nobody Told Me», «Blues Hand Me Down», «Jezzebella» o «Run Outta You».

Vintage Trouble no son retro, ni nostálgicos, Soul Blues y Rock de la calle, The Who se fijaron en ellos y serán la banda que abra todos sus conciertos en Europa desde el 8 de junio hasta el 8 de julio en su gira Quadrophenia, el día 13 de ese mismo mes tocarán junto a The Rolling Stones en su concierto del Hyde Park en Londres, conluyendo su gira europea.
Escucha a Vintage Trouble en «The Bomb Shelter Sessions»
Vintage Trouble actuaron recientemente en el Coachella Festival, cosechando unos enormes elogios por parte del público y crítica especializada, días antes del festival estuvieron en el programa de televisión de Jay Leno y nos dejaron con la siguiente actuación.