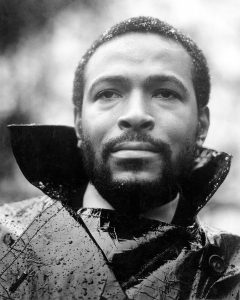 Marvin Gaye tendrá su película biográfica titulada «Sexual Healing»,dirigida por Julien Temple en el día que se cumple su 74 cumpleaños, hoy 2 de abril, y que moría a los 44 años un 1 de abril de 1984, asesinado por su propio padre el día antes de su cumpleaños tras una fuerte discusión por dos disparos de bala. Su padre siempre lo vio como un demonio.
«Sexual Healing», el biopic de Marvin Gaye, estará dirigido por Julien Temple y protagonizado por el actor Jesse L. Martin, aunque estuvo Lenny Kravitz de conseguir el papel de la película, cuyo titulo hace unos meses se barajó con el nombre de «Midnight love».
Marvin Gaye tuvo una dura infancia debido a su mala relación con su padre, un predicador, Gaye fue el batería  de Smokey Robinson y The Miracles, lo que lo llevó a descubrir su vocación como cantante de jazz e iniciar su carrera como vocalista de The Moonglows.
Marvin Gaye para el sello Motown explotó como cantante de Soul y figurar como un cantante guapo y sexy, todo un símbolo erótico, con gran éxito en el escenario, al grado que ninguna de sus canciones pasaba desapercibida a mediados de los años 60.
«Try it baby», «How sweet it is to be loved by you» , «Ain´t that peculiar», «Inner city blues»,  «What´s going on», «Let´s get it on» o «Sexual Healing» fueron sus temas más populares, en los 70, depresiones, alcohol, acusado de malos tratos, muerte de su esposa, drogas, canciones políticas y vida bohemia fueron las constantes del genio Marvin Gaye.
Marvin Gaye cuando se encontraba en lo más alto de su carrera muere asesinado por su padre.