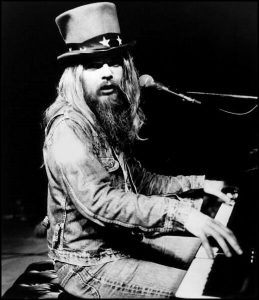 Leon Russell es uno de los grandes monstruos del Rock, hoy 2 de abril cumple 71 años el fantástico cantante, compositor, pianista y guitarrista de Oklahoma, uno de los artistas más brillantes de Estados Unidos por su contribución a distintos géneros musicales, como el Folk, Blues, Gospel, Bluegrass,Country, y Rock durante más de 50 años de trayectoria musical.
Leon Russell con más de treinta discos de estudio a sus espaldas y saliendo de gira todos los años en Estados Unidos con su asidua banda de acompañamiento compuesta por Jackie Wessel, Brandon Holder , Beau Charron y Pat Flynn.
Leon Russell es otro claro ejemplo de lo que siginifica ser un insigne desconocido. muchos de sus arreglos y canciones han sido interpretados por, atentos a la lista, Bob Dylan, Eric Clapton, George Harrison, Dean Martin, Ringo Starr, John Lennon, J.J Cale, The Beach Boys, Marvin Gaye, Barbra Streisand, B.B King, Willie Nelson, Frank Sinatra, Aretha Franklin, Ray Charles, Ike y Tina Turner, Joe Cocker, The Carpenters y un larguísimo etcétera.
Delta Lady (Joe Cocker), A Song For You (Ray Charles),  o Superstar (The Carpenters), son algunas de sus canciones interpretadas por otros, la lista de colaboraciones con otros artistas es inmensa Glen Campbell, The Rolling Stones, Gram Parsons, Eric Clapton, Willie Nelson, John Lennon, J.J. Cale, David Gates, Bruce Hornsby, Hal Blaine, Tommy Tedesco, Bobby "Boris" Pickett, B.B. King, Freddie King, Bill Wyman, Steve Cropper, Carl Radle, Chuck Blackwell, Don Preston, Jesse Ed Davis, Rita Coolidge, Gram Parsons, Barbra Streisand, Ike & Tina Turner, Ricky Nelson, Herb Alpert, Frank Sinatra, Aretha Franklin, Ann-Margret, Dean Martin, Marvin Gaye, Dave Mason, Steve Winwood, and groups such as Delaney & Bonnie and Friends, The Monkees, The Astronauts, The Accents, The Fencemen, The Ventures, The Beach Boys, The Byrds, Jan & Dean, Gary Lewis & The Playboys, Paul Revere & The Raiders, The Rolling Stones, The Ronettes, The Crystals, The Nitty Gritty Dirt Band, The Everly Brothers, The Righteous Brothers, The Flying Burrito Brothers, The Tractors, etc.
Leon Russell comenzó su andadura musical con su grupo The Starlighter, acompañando a Jerry Lee Lewis en una gira que duró dos meses por Estados Unidos a finales de los años 50, aquello generó que muchos se fijasen en aquel joven virtuoso, sobre todo en Los Angeles en el que cimentó su éxito como músico de sesión en una banda de músicos la mejor en aquel momento llamada Wrecking Crew.
Llegarían más éxitos para Leon Russell esta vez como organizador de eventos como la gira d Joe Cocker Mad Dogs & Englishmen, y la filmación de un documental, George Harrison le encargo la dirección musical a Leon Russell, quien en tiempo récord montó la banda base, sin apenas tiempo para ensayar para el Concierto por BanglaDesh el 1 de agosto de 1971 en el Madison Square Garden de Nueva York.
Leon Russell acompaña desde los comienzos a Willie Nelson en su concierto de cada 4 de julio en Estados Unidos, conocido como Willie's 4th of July picnics, Leon Russell aparece en los créditos de la obra maestra de Willie Nelson "One For The Road".
Leon Russell es miembro del Rock and Roll Hall of Fame desde 2011 y grabó su último disco de estudio en 2010 junto a Elton John, titulado "The Union".