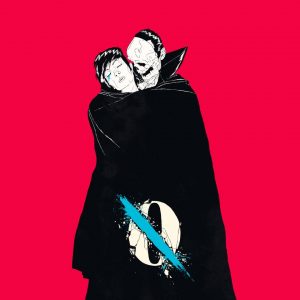 Queens of the Stone Age publican su sexto disco de estudio, …Like Clockwork, álbum que será editado a través del legendario sello independiente Matador y estará a la venta el el 3 de junio, siendo si primer single adelanto «My God is the sun».
…Like Clockwork de Queens of Stone Age (QOTSA), está producido por su cantante y líder Josh Homme , y grabado en los estudios Pink Duck de Burbank, California, su nuevo trabajo de estudio tras su anterior disco Era Vulgaris hace más de seis años.
El nuevo disco de Queens of Stone Age que contienes diez nuevas canciones, cuenta con las colaboraciones de Alex Turner, de Arctic Monkeys, Dave Grohl, Elton John, Trent Reznor, Jake Shears, de Scissor Sisters, Nick Oliveri (antiguo miembro QOTSA), Mark Lanegan, Alain Johannes o Brody Dalle.
«The Vampyre of Time and Memory» es el nuevo vídeo de Queens of Stone Age
La portada del álbum de Queen of The Stone Age es un diseño del artista británico Boneface, y la campaña de promoción del nuevo disco …Like Clockwork, se está basando en la publicación de mensajes enigmáticos a diferentes revistas musicales como NME, Rolling Stone, Kerrang! O Mojo.
Escucha …Like Clockwork de Queen of The Stone Age.
Tracklist de …Like Clockwork Tracklist;
1. Keep Your Eyes Peeled
2. I Sat By The Ocean
3. The Vampyre of Time and Memory
4. If I Had  A Tail
5. My God Is The Sun
6. Kalopsia
7. Fairweather Friends
8. Smooth Sailing
9. I Appear Missing
10. …Like Clockwork