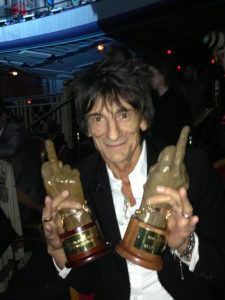 New Musical Express (NME), celebró en el Troxy Theatre de Londres, hoy 27 de febrero la entrega anual de los premios de la revista 2013 NME Awards, repartidos en 22 categorías, y dos premios especiales.
El premio NME Godlike Genius Award, para el ex The Smiths Johnny Marr y el premio NME Outstanding Contribution to Music Award para The Cribs, de los hermanos Jarman y el propio Johnny Marr, premio otorgado por los internautas en la página web de la revista.
El final de los premios 2013 NME Awards, contó con la actuación del Rolling Stones Ronnie Wood y Johnny Marr en el escenario interpretando How Soon Is Now?, y There Is A Light That Never Goes Out.
Los NME Awards 2013, tuvo al actor Russell Kane, como maestro de ceremonias, acto que se lleva realizando desde 1953, conocidos como los premios NME Poll Winners Concerts.
The Rolling Stones en la entrega de premios del NME Poll Winners Concerts en 1965.
Los premios NME 2013 y sus ganadores indiscutibles han sido The Rolling Stones con dos premios, al mejor Film Musical por «Crossfire Hurricane» y mejor banda en directo. El mejor disco del año británico «Given to the Wild» de The Maccabees, el mejor grupo británico es para Biffy Clyro, mejor canción para Foals en «Inhaler», mejor banda novel Palma Violets y mejor artista para Florence Welch.


La revista musical británica NME, comenzó a publicarse en 1952, como respuesta al Billboard Magazine en Estados Unidos, creando una cartelera y listas de singles en todo el Reino Unido con el Top 12, el primer número uno del NME fue para la canción de Al Martino «Here in my Heart».
La revista NME tras una dura lucha con semanarios británicos como el Disc, Record Mirror, Sounds y especialmente con el Melody Maker, que estuvo a punto de arrebatarle el trono, fue a partir de mediados de los años 70, con la aparición del movimiento Punk, cuando la revista definitivamente despegó y popularizo el género con los Sex Pistols de abanderados.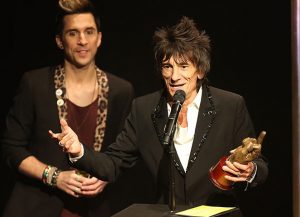 La edición de los premios 2013 de la revista NME, contó con un cierre de gala realmente espectacular con Johnny Marr y Ronnie Wood en el mismo escenario interpretando How Soon Is Now?, y There Is A Light That Never Goes Out, además Johnny Marr interpretó Upstair de su último disco, Sweet Nothing, Sun And Moon y I Fought The Law' con Justin Young de la banda The Vaccines
También actuaron durante la gala Biffy Clyro, The Cribs, Foals y Miles Kane con Paul Weller.
Lista completa de ganadores del 2013 NME Awards:
Mejor Álbum Británico – Given to the Wild – The Maccabees
Mejor Banda Británica – Biffy Clyro
Mejor Canción – "Inhaler" – Foals
Mejor Banda Nueva – Palma Violets
Mejor Banda en directo – The Rolling Stones
Mejor Film Musical – "Crossfire Hurricane" – The Rolling Stones
Mejor Banda Internacional – The Killers
Mejor Artista – Florence Welch de Florence and The Machine

Premio Godlike Genius – Johnny Marr
Premio a la Contribución más Sobresaliente a la Música – The Cribs
Peor Banda – One Direction
Mejor Libro Mike Skinner, The Story Of The Streets
Mejor Festival – Reading & Leeds
Mejor Cuenta de Twitter – Haim (@babyhaim)
Mejor Película – "El Hobbit"
Mejor Comunidad de Fans – Muse
Villano del Año – Harry Styles
Héroe del Año – Barack Obama
Premio Philip Hall Radar – The Child of Lov
Mejor Video Musical – "R U Mine?" – Arctic Monkeys
Mejor Programa de Televisión – "Fresh Meat"
Mejor Relanzamiento – "21″ – Blur
Mejor Himno Bailable – "Sweet Nothing" – Calvin Harris y Florence Welch