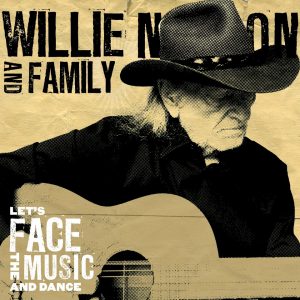 Willie Nelson publica «Let's Face The Music And Dance», el próximo 16 abril para celebrar su 80 cumpleaños y rendir tributo a los compositores y composiciones favoritas durante sus más de cinco décadas en la música, con catorce canciones que van desde el Pop, Rock y Jazz.
«Let's Face The Music And Dance», está grabado en los estudios de Willie Nelson, Nelson's Pedernales Studio, y producido por Buddy Cannon, contiene una nueva versión de su tema «Is the Better Part Over» del álbum A Horse Called Music (1989), y clásicos de Irving Berlin, Carl Perkins, Django Reinhardt, Buck Ram, Spade Cooley,Jimmy Kennedy, Michael Carr entre otros.

Willie Nelson publicó el pasado 13 de noviembre su segundo libro de memorias titulado "Roll Me Up and Smoke Me When I Die. Musings from the Road" (Líame y fúmame cuando muera. Reflexiones desde la carretera), un libro básico para todo amantes de la buena música y especialmente si proviene del forajido Willie Nelson, defensor, activista e instigador de derecho civiles en todo el planeta, e icono de la música Country.
Escucha «You'll Never Know», interpretado por Willie Nelson.
Willie Nelson y el nuevo disco,«Let's Face The Music And Dance», del octogenario para celebrar también asociación con su inseparable guitarra "Trigger", firmada por multitud de artistas, la Martin N-20, homenajeando al caballo del actor y cantante Roy Rogers.
Escucha «Let's Face The Music And Dance» de Willie Nelson.