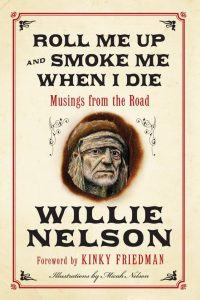 Willie Nelson publica hoy 13 de noviembre su segundo libro de memorias titulado «Roll Me Up and Smoke Me When I Die. Musings from the Road» (Líame y fúmame cuando muera. Reflexiones desde la carretera), su primero libro de memorias lo publicó en 1988 titulado «Willie: An Autobiography».
Willie Nelson tambén escribió el prólogo para otro libro dedicado a su obra, llamado «Farm Aid: A Song for America» en el 2005, y escrito otros cinco libros más, dando el visto bueno a «The Facts of Life and Other Dirty Jokes» (2002), «The Tao of Willie: A Guide to the Happiness in Your Heart» (2006), la novela «A Tale Out of Luck», y «On The Clean Road Again: Biodiesel and The Future of the Family Farm» (2007).
«Roll Me Up and Smoke Me When I Die. Musings from the Road» título de una de las canciones que Willie Nelson llama siempre en sus conciertos Gospel irónicamente, es una nueva reflexión sobre sus grandes influencias  y sobre las cosas que han sido importantes en su vida, como su familia, amigos y colegas de la profesión.
https://youtu.be/nRH0jhuc1r4
En su nuevo libro, «Roll Me Up and Smoke Me When I Die. Musings from the Road» , Willie Nelson desmenuza perfectamente lo que ha sido en su vida la religión, la marihuana, el medio ambiente, sus esposas, la política, los caballos, Texas, el póker, los perros, Nashville o el karma.
Con casi ochenta años de edad, muestra en su nuevo ejemplar viejas fotografías, sus chistes preferidos, diseños y dibujos de su hijo Micah Nelson y textos y letras de sus canciones.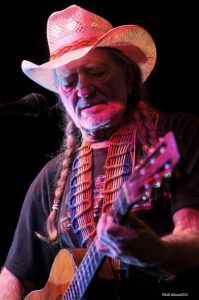 Willie Nelson analiza y explica en su nuevo libro «Roll Me Up and Smoke Me When I Die. Musings from the Road» cómo desarrolló su famoso disco «Red Headed Stranger», publicado en 1975 tras marcharse de Atlantic Records y unirse a Columbia Records, y en el que se insipiró para hacer el disco en aquella historia en el asesinato de una mujer y su amante por parte de su marido en Texas, conocido como el cuento de Tale of the Red Headed Strange, posteriormente se haría una película sobre los textos y poesía del disco, titulándose de igual manera.
«Blue Eyes Crying in the Rain», «Down Yonder» o «Remember Me», fueron sus canciones más conocidas, el disco consiguió ser número uno, y disco doble de platino.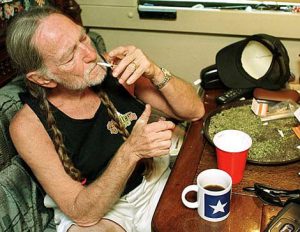 Willie Nelson narra también sus andanzas con The Higwayhmen (Kris Kristofferson, Johnny Cash, Waylon Jennings y Willie Nelson), y cómo enseñó a su nieta durante una de sus gira a tocar la guitarra, también cuenta sus labores de agricultor recogiendo frutas, verduras y algodón. o sus vivencias con una tribu en la isla de Maui en Hawai.
El prólogo del libro «Roll Me Up and Smoke Me When I Die. Musings from the Road», está realizado por su amigo Kinky Friedman, uno de los escritores, compositores y humoristas satíricos de Tejas, y que debido a su gran popularidad llegó a presentarse como gobernador del estado de Texas en el año 2006,  para comprobar la reacción política y ciudadana quedando en cuarta posisción en aquella eleccióny obteniendo casi el 13 % del electorado tejano.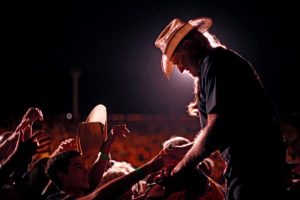 Willie Nelson el pasado abril, recibió un homenaje en Austin con una estatua en su nombre en la ciudad de Austin, para muchos y para nosotros sin duda la capital de la música en su Texas natal con motivo de un festival en favor y legalización del consumo de la marihuana y en la que no paró de cantar su fantástica canción "Roll Me Up and Smoke Me When I Die" (Líame y fúmame cuando muera).
Willie Nelson publicaba el 15 de mayo pasado «Heroes»,  recopilación de catorce canciones Pop y Country, entre las que se encuentran versiones de temas de los años 30's y 40's, de Coldplay y de Pearl Jam, junto a nuevas composiciones de sus hijos Lukas Nelson y Micah Nelson y canciones cantadas junto a Merle Haggard, Sheryl Crow, Snoop Dogg, Kris Kristofferson, Jamey Johnson o sus propios vástagos.
«Heroes» de Willie Nelson está producido por Buddy Cannon, acompañado por su banda habitual, la Roll me Up Band, con Kevin «Swine» Grantt (bajo), Bobby Terry (guitarras), Jim «Moose» Brown (piano, Wurlitzer, Hammond B-3), Mike Johnson (steel guitar), Tony Creasman (batería), Mickey Raphael (armónica) y Lukas Nelson (guitarra eléctrica). Como músicos adicionales aparecen Paul Schafer (Hammond B-3), Butch Carr (sintetizador), Steve Brewster (batería) y el productor Buddy Cannon (bajo, guitarra acústica), Melonie Cannon, Buddy Cannon, Lance Miller y Kris Kristofferson aparecen en los créditos del disco como coros de «Heroes».
Escucha «Heroes» de Willie Nelson.
Willie Nelson, casi octogenario, es uno de los grandes forajidos y grandes compositores de la música norteamericana, defensor, activista e instigador de derecho civiles en todo el planeta, e icono de la música Country.
Fundador junto a otro forajidos del movimiento Outlaw junto a Leon Russell, Merle Haggard, Johnny Cash, Kriss Kristofferson, Jessi Colter, Sammi Smith y Waylon Jennings entre otros contra aquella moda que instauró a mediados de los años 60 con la moda del sonido Nashville que templaba la música Country de toda la vida como el Honky Tonk, llegándola a ningunear, y llevándola a terrenos más Pop y músicas más blandas, siendo Chet Atkins la cabeza visible del nuevo sonido Nashville, apoyado por grandes medios de comunicación y discográficas.
Una equivalencia aproximada sería lo que está ocurriendo con la corriente de la música indie rock como respuesta al Rock and Roll, corriente musical asociada con muchas bandas en los años 80 desde Estados Unidos y Gran Bretaña, siendo éstas demasiado sensibles, hipnóticas y falta de ritmos abrasivos y energía.
Willie Nelson con más de 200 álbumes grabados y siete Grammy's, unió el Pop y el Country en los primeros 60 con las inolvidables «Crazy» o «Night Life» entre otras, y a mediados de los 70 se había convertido en una referencia revolucionaria del Country con sus discos en solitario.
Willie Nelson es además, cofundador de Farm Aid, y desde 1985 organiza conciertos anuales a beneficio de los granjeros estadounidenses, se mantiene en la brecha y lucha contra la matanza de caballos y fabrica él mismo su propia mezcla de combustible biodiesel.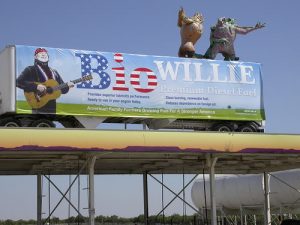 Willie Nelson ha sido actor en series de televisión y ha hecho cameos en películas y desde hace muchísimos años ferviente defensor de la agricultura natural, la ecología, defensor del consumo de la marihuana, y propietario de una empresa con combustible biológico, llamado Bio-Willie, y en el que él y su banda recorren Estados Unidos con su legendario autobús llamado Honeysuckle Rose IV con su banda Willie Nelson & Family, de la que recientemente uno de sus mejores amigos falleció, Chris Ethridge.
Apoyadónse siempre de su inseparable guitarra "Trigger", firmada por multitud de artistas, la Martin N-20, homenajeando al caballo del actor y cantante Roy Rogers, con su sonido único por la forma se haberse fabricado dicha guitarra, y del punteo y sonido que emana el instrumento al tocarla Willie Nelson, así como la forma de cantar única del cantante.
Bibliografía de Willie Nelson:
Willie: An Autobiography, Simon & Schuster, 1988, con Bud Shrake
The Facts of Life and Other Dirty Jokes, Random House, 2002
The Tao of Willie: A Guide to the Happiness in Your Heart, Gotham, 2006, con Turk Pipkin
A Tale Out of Luck (novela), Center Street, 2008, con Mike Blakely
On The Clean Road Again: Biodiesel and The Future of the Family Farm, Fulcrum Publishing, 2007
Farm Aid: A Song for America, Rodale Books, prólogo de  Willie Nelson, 2005
Roll Me Up and Smoke Me When I Die: Musings From the Road, William Morrow, prólogo de Kinky Friedman, 2012
«Roll Me Up and Smoke Me When I Die» new Willie Nelson book out next November 13th