Woody Pines, ex miembro de los legendarios The Kitchen Syncopators, publicó "Rabbits Motel" el pasado 13 de febrero, su cuarto trabajo compuesto por diez canciones perfumadas con el Jazz de New Orleans más esplendoroso, Country Blues pantanoso, Ragtime, Folk, producido por el propio Pines y Bernie Nau.
Escucha el disco de Woody Pines "Rabbits Motel".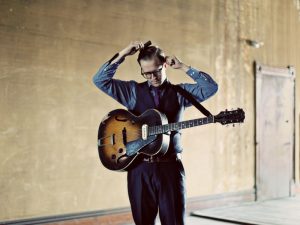 Woody Pines, natural de Nashville, es un ferviente admirador también de las Juke Joints, de Bob Dylan, Pete Seeger, Ramblin' Jack Elliot y Utah Philips, y desde muy temprana edad se tira a las calles de Nueva Orleans para interpretar sus propias canciones, al mismo tiempo que forma con su amigo Gill Landry de Old Medicine Crow Show, The Kitchen Syncopators, una de las mejores Jug Bands de la última década en Estados Unidos, banda que duró tres años.
Escucha Lonesome Shack Blues de Woody Pines.
Woody Pines publica su primer y magnífico larga duración en el 2007, Lonesome Shack Blues, un viaje en tren por todo el universo musical Pines, luego vendría Counting Alligators en el 2012, con la producción de Gill Landry de Old Medicine Crow Show, y participación de Henry Westmoreland de la banda Squirrel Nut Zippers y Ketch Secor de Old Medicine Crow Show.
Escucha You Gotta Roll de Woody Pines.
Woody Pines publicó el pasado año su EP titulado "You Gotta Roll", teloneando a Old Medicine Crow Show en multitud de ocasiones.
Escucha Counting Alligators de Willie Nile.