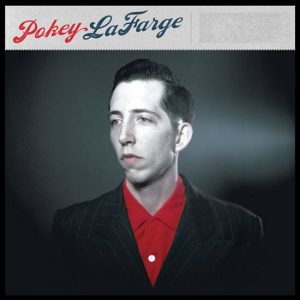 Pokey Lafarge publica su nuevo y quinto disco de estudio, «Pokey Lafarge» el próximo 4 de junio, co-producido junto al frontman de Old Crow Medicine Show, Ketch Secor, «Central Time» es el primer adelanto del disco.
Pokey Lafarge es un joven compositor treinteañero que le apasionan los Juke Joints como C.W. Stoneking, plasmando en sus canciones un río de Americana Music que consiste en fusionar a partes iguales Jazz, Ragtime Country blues, Western swing, Vaudeville, Folk de los Apalaches, influenciado por sus grandes héroes Earl Scruggs, Doc Watson, Skip James, Robert Wilkins, Sleepy John Estes, Howlin' Wolf, Jimmie Rodgers, Bill Monroe, Milton Brown and the Musical Brownies, Emmett Miller, o Willie Dixon.
Escucha «Central Time» el primer adelanto del nuevo disco de Pokey Lafarge.
Pokey Lafarge, natural de Illinois, desde muy temprana edad e influenciado por sus abuelos, antiguos soldados de la segunda guerra mundial, comienza a apasionarle todo lo relacionado con aquella década de los años cuarenta y cincuenta y toda la literatura Norteamericana de Hemmingway, Steinbeck y Kerouac y toda su música.
Escucha a Pokey Lafarge en «Pokey Lafarge».
Escucha un adelanto de las nuevas canciones de Pokey Lafarge, en un concierto en directo en el programa de radio St. Louis Public Radio .
Pokey Lafarge, publica  sus dos primeros discos en solitario, «Marmalade» (2006) y «Beat, Move & Shake» (2008), acompañando en sus inicios a los grandes The Hackensaw Boys durante una gira.
Tras esos dos primeros discos, Pokey Lafarge forma su nueva banda Pokey LaFarge & the South City Three, y publican el magnífico y multipremiado disco «Riverboat Soul» en el 2009, ganando el prestigioso premio Independent Music Award, como el mejor disco de Americana, en el año 2010.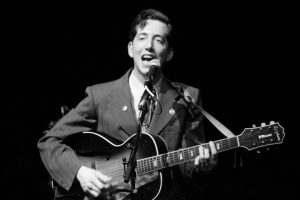 Jack White y su sello discográfico Third Man Records se fija en el jóven músico y lo ficha para grabar un vinilo de 7″ compuesto por dos canciones «Chittlin' Cookin' Time In Cheatham County» y «Pack It Up» en el 2011.
Jack White ese mismo año edita su cuarto y magnífico disco Middle of Everywhere, con su banda, Pokey LaFarge & the South City Three, compuesta por Adam Hoskins, Ryan Koenig, Joey Glynn, Chloe Feoranzo y TJ Muller.
Pokey LaFarge & the South City Three abrió la gran mayoría de conciertos para Old Crow Medicine Show y The Lumineers.
Sin lugar a dudas ha llegado el gran momento para Pokey Lafarge, un compositor y musico como la copa de un pino con ese aspecto Bing Crosby, amante del Blues y Jazz más salvaje.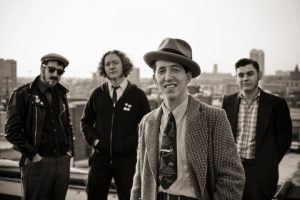 Fechas de la gira mundial de Pokey Lafarge.
6/4/13      New York, NY. Bowery Ballroom
6/5/13      Alexandria, VA. The Birchmere
6/7/13      Cincinnati, OH. Taft Theatre
6/8/13      Bloomington, IL. Downtown Bloomington
6/13/13    Omaha, NE. The Waiting Room Lounge
6/14/13    Lyons, CO. Oskar Blues Grill & Brews
6/15/13    Denver, CO. L2 Arts and Culture Center
6/16/13    Palisade, CO. Palisade Bluegrass Festival
6/22/13    Fayetteville, AR. George's Majestic Lounge
6/28/13    Paducah, KY. Maiden Alley Cinema
7/11/13    Abingdon, VA. Farmer's Market Pavilion
7/12/13    Asheville, NC. The Grey Eagle
7/14/13    Mount Solon, VA. Red Wing Roots Music Festival
7/15/13    Glenville, PA. Snail Pie Lounge
7/17/13    Philadelphia, PA. World Cafe Live
7/23/13    Burlington, VT. Signal Kitchen
7/24/13    Montreal, QC. Petit Campus
7/25/13    Ottawa, ON. Elmdale Oyster House & Tavern
7/26/13    Toronto, ON. Horseshoe Tavern
7/27/13    Guelph, ON. Hillside Music Festival
7/28/13    Guelph, ON. Hillside Music Festival
7/30/13    Ann Arbor, MI. The Ark
8/9/13      Henderson, KY. Audubon Mill Park
8/10/13    Louisville, KY. Headliners Music Hall
8/16/13    Biddinghuize, Netherlands. Lowlands
8/17/13    Kiewit, Belgium. Pukkelpop
8/19/13    Winterthur, Zurich, Switzerland. Musikfestwochen
8/21/13    Groningen, Netherlands. Noorderzon Performing Arts Festival
8/22/13    Tonder, Denmark. Tonder Festival
8/23/13    Tonder, Denmark. Tonder Festival
8/24/13    Tonder, Denmark. Tonder Festival
8/25/13    Tonder, Denmark. Tonder Festival
8/31/13    Dorset, United Kingdom. End of the Road Festival
9/21/13    Bristol, TN/VA. Bristol Rhythm & Roots Reunion
9/22/13    Bristol, TN/VA. Bristol Rhythm & Roots Reunion
Fechas de la gira española de Pokey Lafarge & His Band en noviembre:
18 noviembre en Barcelona, Rocksound
19 noviembre en Madrid, Boite Live
20 noviembre en Santander, Escenario Santander