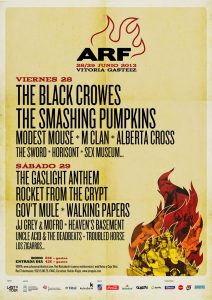 La organización del Azkena Rock Festival 2013 acaba de anunciar una nueva remesa de bandas JJ Grey & Mofro, Uncle Acid & The Deadbeats, Walking Papers, Sex Museum, The Gaslight Anthem, Heaven's Basement, Troubled Horse, Horisont y Los Zigarros, a poco más de un mes de que comience uno de los mejores festivales de nuestro país el próximo 28 de junio en Vitoria-Gasteiz.
A falta de anunciar las tres últimas incorporaciones el Azkena Rock Festival 2013, con las confirmaciones de The Black Crowes (única fechas en España), The Smashing Pumpkins, Gov't Mule, Modest Mouse, Rocket From The Crypt, M-Clan, Alberta Cross y The Sword, el festival regresa a su fórmula original enla que ninguna actuación se solape con otra, en dos escenerios, prescindiendo del tercer escenario que se venía utilizando.
JJ Grey & Mofro publicó el pasado 16 de abril de 2013, "This River", su sexto disco de estudio de otra magnífica banda norteamericana de Southern Soul, Rhythm & Blues y Funky, desconocida por el gran público, una combinación entre Otis Redding, Allman Brothers, Booker T, Curtis Mayfield y The Rolling Stones, como bien os contamos en uno de nuestros artículos sobre la banda.
Uncle Acid & The Deadbeats, buena banda británica que acaba de publicar su tercer y nuevo disco de estudio "Mind Control", Rock de los setenta, Psicodelia y con claras referencias a Queens Of The Stone Age, King Crimson, Deep Purple o Black Sabbath.
Walking Papers, otra interesante banda norteamericana con el bajista de Guns N' Roses, Velvet Revolver y Jane's Addiction, Duff McKagan como líder del proyecto, el cuarteto de Seattle ha grabado un disco de estudio "Walking Papers" el pasado año.
The Gaslight Anthem, cuarteto norteamericano desde New Jersey y con su último trabajo "Handwritten" del 2012, una banda de Rock con retazos Punk, Soul y Hardcore melódico en el que consiguieron en su tercer disco "American Slang" su momento de madurez. Brian Fallon su cantante y Bruce Springsteen se profesan admiración mutua.
Sex Museum, grupo madrileño que comenzó su andadura musical hace más de veintinco años con su impronta Hard Rock, Garage y Psicodelia desde aquel "Buzz Face" de mediados de años 80 hasta su último "Again & Again" del 2011. Los hermanos Pardo, Miguel (voz) y Fernando (guitarra), y Marta Ruiz (órgano), quedan como miembros originales de Sex Museum, junto a Roberto "Loza" Lozano (batería) y Javier Vacas (bajo).
Heaven's Basement, banda británica de Hard Rock con último disco publicado recientemente "Filthy empire", Rock & Roll setentero con Aerosmith o Guns N' Roses como sus grandes influencias.
La primera visita de los suecos a España de Horisont, una banda de Rock progresivo y ralamazos Blues con un último disco publico "Second Asault" (2012) y de Troubled Horse, grupo Stoner que publicó el año pasado un excelente "Step Inside".
Y los valencianos Los Zigarros, antiguos componentes de Los Perros del Boogie con los hermanos Ovidi y Álvaro Tormo, que publicarán su nuevo disco el próximo 18 de junio repleto de Rock & Roll ochentero.
El Azkena Rock Festival 2013, pone a disposición entradas de un día a 42€ + gastos, siendo el precio del bono de dos días 65€ + gastos.
Igualmente habrá una serie de conciertos en diferentes lugares de Vitoria, el día previo a que comience en festival el jueves 27 de junio en Vitoria con actuaciones de The Dealers (16.30h) y Whisky Dick (17.30h) y los barceloneses '77 (18.30h) en la plaza de la Virgen Blanca, Rockaina (20.00h) y los británicos The Whybirds (21.00h) en la taberna Hor Dago!, en el Jardín de Falerina, y Nukore y los británicos The Howling en la sala Helldorado con un precio de 10 euros, 5 anticipada.