«Muscle Shoals», es el nuevo documental dirigido por el debutante  Greg «Freddy» Camalie, y que será presentado en el festival de cine de Sundance Film Festival,  el 26 de enero de 2013 en el Park City, Salt Lake City de Utah.
«Muscle Shoals», narra la historia de ésta pequeña localidad de poco más de diez mil habitantes, al noroeste del estado de Alabama, muy cerca del Tennessee River, se encuentra F.A.M.E. (Florence Alabama Music Enterprises), la factoría del genio Rick Hall inaugurada en Florence en 1959 junto a otros tres socios y conducida en solitario a partir de 1963 en Muscle Shoals, donde comenzó la historia la hoy mítica región conocida como The Shoals, junto a Muscle Shoals Sound Studios.
El estreno oficial de «Muscle Shoals» en todo el mundo será el próximo 27 de septiembre de 2013.
Muscle Shoals, se le conoce como la localidad musical donde todos los géneros musicales confluyeron, y se convirtieron en una sola marca, con el blues, jazz, country, gospel, rock & roll, rhythm & blues, soul y el folk, como géneros predominantes.
Muscle Shoals Trailer
Arthur Alexander «You Better Move on».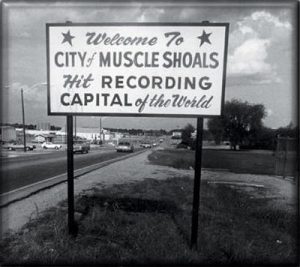 Etta James «Tell Mama».
Aretha Franklin «I Never loved a man (The way I love you)
Aretha Franklin, Wilson Pickett, Otis Redding, Joe Tex, Duane Allman, The Hour Glass, Clarence Carter, Candi Staton, Mac Davis, Paul Anka, Tom Jones, Etta James, Andy Williams, The Osmonds, Shenandoa, Jason Isbell and the 400 Unit, Matisyahu, Band of Horses, Drive by Truckers, Dylan LeBlanc, o Bettye Lavette para FAME Studios, y The Rolling Stones, Traffic, Elton John, Boz Scaggs, Willie Nelson, Paul Simon, Bob Dylan, Lynyrd Skynyrd, The Staple Singers, Booker T & The MGs, Isaac Hayes, Dr. Hook, Elkie Brooks, Alabama Shakes o The Black Keys posteriormente para Muscle Shoals Sound Studio, son algunos ejemplos de este preponderante zona de grabación musical.
Wilson Pickett y Duanne Allman «Hey Jude»
Canciones como "Sweet Home Alabama", "I'll Take You There," "Brown Sugar," "When a Man Loves a Woman," , «Wild Horses», "I Never Loved A Man the Way That I Loved You," "Mustang Sally," "Tell Mama," "Kodachrome," "Sitting in Limbo," "Freebird" o "Mainstreet" fueron grabadas en esta zona, donde a la localidad de Florence, en Muscle Shoals,  se le conoce como el lugar donde nació en Blues y a W.C. Handy, se le conoce como el padre del Blues.
Bob Seger «Get out of Denver»

Bob Dylan «Gotta serve somebody»
Muscle Shoals Sound Studio, se fundó después de F.A.M.E., en 1969, en el que cuatro músicos de sesión, de genios como Otis Redding, Wilson Pickett, y Aretha Franklin, como Barry Beckett (a los teclados), Roger Hawkins (batería), Jimmy Johnson (guitarrísta) y David Hood (bajista y padre de Patterson Hood de Drive by Truckers, conocidos como The Swampers.

Muscle Shoals, bajo la influencia india de sus primeros pobladores, se le conocía como el «Singing River» (Río cantante), Gregg Allman, Bono, Clarence Carter, Jimmy Cliff, Aretha Franklin, Mick Jagger, Etta James, Alicia Keys, David Hood, Keith Richards, Percy Sledge, Donna Jean Godchaux, son algunos de los invitados que aparecen en el esperadísimo documental, que se estrena oficialmente el 26 de enero en el Sundance Film Festival en Park City, Utah.
The Black Keys «Unknown Brother»